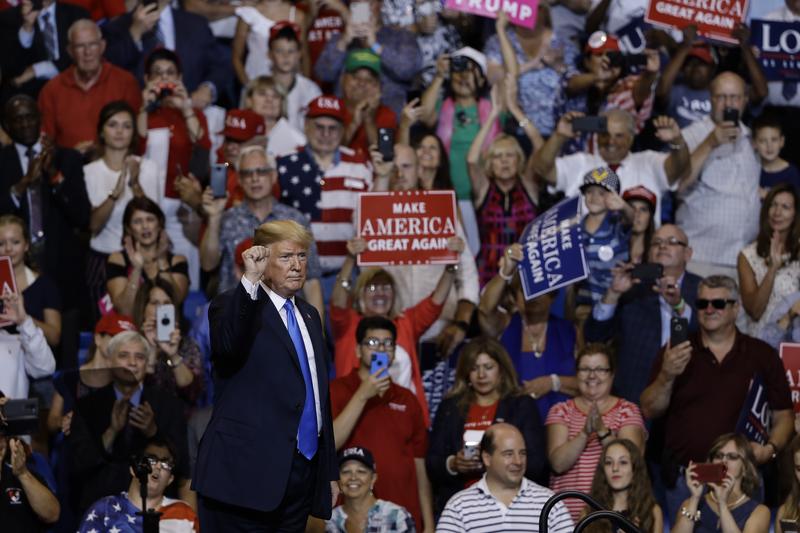 President Trump made his closing pitch to supporters ahead of Tuesday's elections, telling his backers the media is viewing the midterms as a "referendum" on himself and the broader "Make America Great Again" movement.
"Even though I'm not on the ballot, in a certain way I am on the ballot," Trump said Monday during a tele-town hall hosted by his presidential campaign.
In his message to voters, Trump focused primarily on the economic gains made since he assumed the presidency, touting the 250,000 jobs added last month and 4.2 percent GDP growth.
Trump made no mention of immigration, an issue he has thrust to the forefront in the final days of the campaign and as a caravan of migrants fleeing violence in Honduras moves through Mexico toward the U.S.-Mexico border.
"The election tomorrow is very vital," Trump said. "It really is summing up what we've done."
The president also knocked the coverage from the media, saying the press is viewing the midterms as a "referendum on me and our movement."
"I've seen all of the newspapers. Many of them think it's a referendum on what we've done," Trump said. "And if we don't have a good day, they will make it like it's the end of the world. ... If we do have a good day, they won't give us any credit."
Instead, the president said the economy, healthcare, and the "people" will give his administration credit if Republicans maintain their majorities in the House and Senate.
In the lead-up to Tuesday's elections, the president has hit the campaign trail in an effort to boost support for Republican candidates.
He kicked off an eight-state swing Friday, which has so far included stops in Florida, Tennessee, Georgia, and Montana. On Monday, Trump will campaign for Republican candidates in Ohio, Missouri, and Indiana.
WASHINGTONEXAMINER.COM
https://www.washingtonexaminer.com/news/trump-says-media-will-make-it-like-its-the-end-of-the-world-if-republicans-lose-big