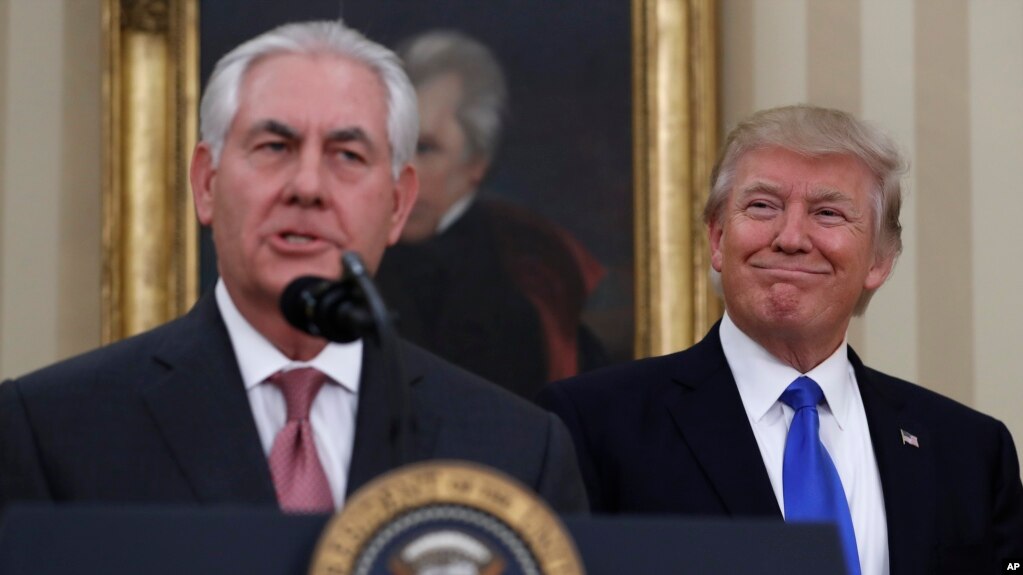 Trump regularly undermined Tillerson's diplomatic efforts.
Rex Tillerson is out as secretary of state after just 14 months on the job.
President Donald Trump on Tuesday tweeted that he is replacing Tillerson with CIA Director Mike Pompeo, minutes after The Washington Post first reported that he had ousted Tillerson.
His job security had always seemed precarious, but on Nov. 30, The New York Times reported that the White House was considering forcing out Tillerson and replacing him with Pompeo.
The White House and State Department pushed back on the report, but that day, neither Trump nor White House press secretary Sarah Huckabee Sanders would definitively say whether the president had confidence in Tillerson.
"He's here. Rex is here," Trump told reporters.
"When the president loses confidence in somebody, they'll no longer be here," Sanders said at that day's White House press briefing.
Trump and Tillerson's relationship has long been filled with tension. Tillerson reportedly considered resigning after Trump's widely criticized speech to the Boy Scouts of America in July.
On Oct. 4, NBC News reported that Tillerson called Trump "a moron" during a meeting with top officials over the summer.
Following the report, Tillerson held an unusual press conference, in which he showered Trump with praise, affirming that the president is "smart."
Notably, he did not dispute whether he called Trump "a moron," leaving that job to State Department spokeswoman Heather Nauert, who claimed that "the secretary does not use that type of language."
Attacking the reporting as "phony," Trump later said he appreciated Tillerson's comments and that he had "total confidence in Rex."
"And I can tell you who is going to win," he added.
White House press secretary Sarah Huckabee Sanders claimed Trump's comment was "a joke" and said that he "never implied that the secretary of state was not incredibly intelligent."
Trump has repeatedly undermined Tillerson's diplomatic efforts in attempting to quell North Korea's nuclear aggression, with the two men often contradicting each other and the president lambasting Tillerson on Twitter.
Tillerson's days as secretary of state seemed numbered from the start. 
A government outsider lacking diplomatic experience, he arrived at Foggy Bottom after decades at Exxon Mobil Corp., rising from engineer in 1975 to chairman and CEO in 2006, overseeing vast expansion of the company's operations worldwide. 
Trump picked Tillerson for the State Department job after a lengthy public vetting of prominent candidates, including former New York Mayor Rudy Giuliani and former GOP presidential candidate Mitt Romney.
Tillerson faced opposition during his Senate confirmation process, with lawmakers expressing concerns over his lack of experience in government and diplomacy, and strong ties with Russian leader Vladimir Putin from years of business in the country.  
Even Tillerson himself had been reluctant to accept the position. "I didn't want this job. I didn't seek this job," he admitted to the conservative news outlet Independent Journal Review in March.
"My wife told me I'm supposed to do this," he responded when an aide asked him why he accepted the position anyway. 
Once in office, Tillerson sought to reorganize the State Department and prioritize its activities toward business and security. He publicly illustrated the pivot after weeks on the job, opting to skip the presentation of the department's annual human rights report.
During his tenure, the department faced drastic budget cuts and a crucial leadership vacuum. Amid massive international challenges like North Korea's nuclear arms race and the war in Syria, Trump proposed cutting the State Department budget by nearly one-third. Dozens of vacancies remained unfilled, including top deputies, because of White House refusal to accept Tillerson's picks. 
Tillerson and the White House also clashed on policy and messaging.  
From the White House, the president's senior adviser and son-in-law, Jared Kushner, often ran a parallel track of diplomacy ― traveling to Israel and the Palestinian territories to explore ways to revive peace talks, and interacting with Mexican President Enrique Peña Nieto. 
Sources told CNN in July that Tillerson was becoming increasingly frustrated with the White House. In late August, Axios reported that Trump was losing patience with his secretary of state, in part because key roles at the department still remained unfilled more than eight months into Trump's presidency. A State Department spokesperson told Axios that Tillerson was working to fill the vacancies but that the White House was effectively sitting on his recommendations. 
Nauert had repeatedly insisted Tillerson was not considering resignation. Asked if a July vacation indicated Tillerson wanted to step away from the spotlight, Nauert said the secretary was "just taking a little time off" after that month's G-20 summit.
Tillerson, like Trump, wasn't a fan of reporters' questions, doing away with the State Department's daily briefing and limiting media access during his foreign travels. 
He said he wasn't "a big media press-access person," when he allowed just one journalist ― a reporter from the Independent Journal Review ― to accompany him on a visit to South Korea. The move backfired. American journalists were unable to challenge an embarrassing report in the Korea Herald that the secretary had canceled a dinner with South Korean officials because he was fatigued. 
National security adviser Michael Flynn was forced to step down in February  following revelations that he discussed U.S. sanctions against Russia with that country's ambassador before Trump's inauguration. 
On May 9, Trump fired FBI Director James Comey, who had been leading an investigation into whether Trump's campaign colluded with Russia to influence the presidential election.
Mike Dubke, White House communications director, resigned later in May after months of chaos in the press shop. Press secretary Sean Spicer quit in July, after the president appointed Anthony Scaramucci as the new communications director. Scaramucci resigned after just 10 days, amid a spate of departures that included White House Chief of Staff Reince Priebus and, less than a month later, chief strategist Steve Bannon.
POST YOUR OPINION BELOW: 
HUFFINGTONPOST.COM
https://www.huffingtonpost.com/entry/rex-tillerson-out_us_59765701e4b0c95f375db326