Top News
Acting ICE chief: Trump 'has done more for border security and public safety' than past 6 presidents
Details

Published on

04 December 2017
Thomas Homan, acting chief of U.S. Immigration and Customs Enforcement, said Monday that immigration enforcement is thriving under President Trump's leadership unlike any recent commander in chief.
"This president has done more for border security and public safety than any of the six presidents I've worked for. Just since his leadership in January, border crossings are at a 45-year low. Now that's not a coincidence. That's because this president has let the men and women of Border Patrol and ICE do their job," Homan told Fox News' "Fox and Friends." 
Homan, a holdover from President Barack Obama's administration, was nominated in mid-November to permanently oversee the interior enforcement agency under the Department of Homeland Security.
As a candidate, Trump promised to deport criminal illegal immigrants on his first day in office. During the administration's first 100 days, more than 41,000 illegal immigrants were arrested under Homan's command of ICE.
Homan has taken on Trump's tone on illegal immigration. In June, he told the estimated 11 million people in the U.S. illegally to "look over your shoulder" because he would not ignore some immigration policies as Obama or former DHS Secretary Jeh Johnson had ordered.
Homan is also opposed to Obama's pro-sanctuary city stance and has demanded all jurisdictions cooperate with ICE requests to detain illegal immigrants who have been picked up by state and local law enforcement for non-immigration-related crimes.
In June 2016, Homan testified that deportation numbers were not down because there was no one to deport, but because of the Obama administration's opposition to carrying them out.
As of this past July, Homan said the demand for criminal illegal immigrants in local jails has increased 80 percent.
Customs and Border Protection is due to release its annual report of border apprehension numbers from fiscal year 2017 at any time. The numbers are expected to be dramatically lower than last year's.
WASHINGTONEXAMINER.COM
http://www.washingtonexaminer.com/acting-ice-chief-trump-has-done-more-for-border-security-and-public-safety-than-past-6-presidents/article/2642443
Will the GOP tax bill cost Donald Trump 'a fortune'? No
Details

Published on

02 December 2017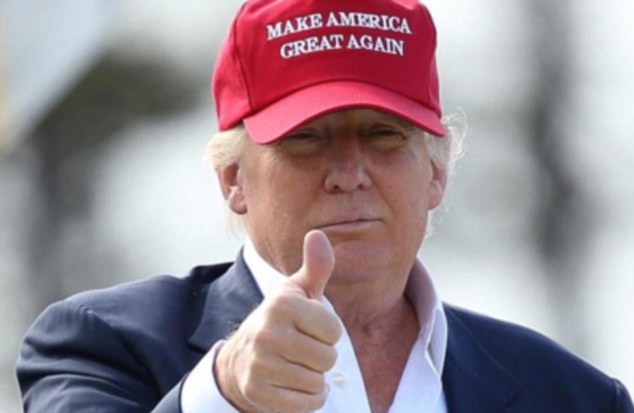 President Donald Trump said he wouldn't benefit financially from the Republican tax legislation on Capitol Hill. In fact, he said he would get socked by it. "So right now, America's tax code is a total dysfunctional mess," Trump said in a speech in St. Charles, Mo., on Nov. 29, 2017. "The current system has cost our nation millions of American jobs, trillions and trillions of dollars, and billions of hours wasted on paperwork and compliance. It is riddled with loopholes that let some special interests -- including myself, in all fairness. This is going to cost me a fortune, this thing -- believe me. Believe me, this is not good for me."
Trump's claim sounded dubious. The analyses of the bills we have seen show advantages, not disadvantages, for the wealthy as well as corporations.
When we asked the White House for additional details about how the law would hurt Trump, they cited the repeal of the state and local tax deduction, which allows taxpayers to deduct all or some of their state and local tax burden from their federal taxable income. As a wealthy resident of New York City, Trump would likely face high tax state and local rates. (At the Nov. 30 press briefing, White House Press Secretary Sarah Huckabee Sanders cited the elimination of deductions as one possible source of a tax increase for the president.)
The White House also cited "anti-abuse" provisions within the changes being made to the "pass-through" tax rates for business income that is taxed within individual tax filings.
Trump may indeed get hit by some of the tax bill's specific provisions. But independent analyses of the bill's potential impact on his own tax situation agree that, after all is said and done, he should come out far ahead compared to the status quo.
It is impossible to pin down the benefits that would flow to Trump's tax situation due to his own refusal to follow the decades-old presidential precedent of releasing his tax returns. (He broke his promise to release them).
Any projections depend on a leaked, partial tax return from 12 years ago, and a lot may have changed since then. For instance, there's no way of knowing whether 2005 was an unusual year for Trump's finances.
Analyses by the New York Times and NBC attempted to understand how Trump's finances would be impacted by the House bill rely on the partial 2005 return. The Times based its calculations on a framework that preceded the official release of both chambers' bills. The NBC analysis was based on the House version of the bill. (The framework is different than the House bill in its details, but they share many common elements.)
The elimination of the alternative minimum tax and the lowering of the pass-through tax rate for certain types of business income -- minus tax increases from eliminating many existing deductions -- would leave Trump $42 million better off, according to the New York Times analysis. (The alternative minimum tax requires that taxpayers with many deductions pay at least a minimum amount of taxes.)
The NBC analysis — undertaken by Maury Cartine, the partner in charge of tax and business services in the New York City office of the Marcum Group — found net savings of $22.5 million for Trump, primarily from eliminating the alternative minimum tax.
Trump's myriad ventures could enable him to benefit from several changes.
The House version would allow "pass-through" business income to be taxed at 25 percent, rather than the current maximum of 39.6 percent. The Senate bill would use a different mechanism for such income that is less advantageous.
Trump's 2005 return showed more than $109 million in income from businesses that would potentially benefit from a tax break on pass-through income.
So, at the very least, two independent estimates came up with immediate savings in the low tens of millions of dollars. Even if the actual savings for Trump end up being a small fraction of that amount, that would be more money than most Americans make in a year, and more than some make in a lifetime.
Meanwhile, this doesn't include the potentially massive benefits Trump could see from changes to the estate tax -- albeit savings that would take longer to materialize.
The estate tax comes into play when someone dies and their estate is large enough to qualify for the tax. Due to generous exemptions, the tax generally hits wealthy taxpayers.
The House bill would end the estate tax after 2024. The Senate bill would keep it, instead doubling the current exemption for individuals to $11 million. The approach that prevails in the final version of the bill is unknown for now.
Both the Times and NBC estimated that the House version of the estate tax could save Trump more than $1.1 billion. Neither analysis looked specifically at the Senate's version; that approach would likely provide Trump with some savings, but on a much smaller scale. (It's worth noting that any potential savings from the estate tax would come only after the death of Trump or his wife Melania, presumably years down the road.)
Trump's possible gains from the bill are hardly unique for the wealthiest Americans.
According to analysis of the Senate bill by the Joint Committee on Taxation, American households with incomes in excess of $1 million -- a threshold Trump is almost certainly far above -- would see a tax savings of $41,819 in 2019 and $36,259 in 2017.
And an analysis by an independent group, the Urban Institute-Brookings Institution Tax Policy Center, estimated that for the top one-tenth of 1 percent of earners -- those with incomes of at least $3,439,900 -- 72 percent would see tax cuts and 28 would see a tax increase in 2018. The average tax cut for this group would be $174,620 in 2018.
Our ruling
Trump said, "This (tax bill) is going to cost me a fortune, this thing -- believe me. Believe me, this is not good for me."
While there is uncertainty about the exact scale of Trump's potential gains -- both because of the lack of a final version of the bill and because of big gaps in the public knowledge about his personal finances -- either of the GOP bills would almost certainly give Trump a big windfall.
Two independent analyses suggest that it could be in the low tens of millions of dollars immediately. His family also could get as much as $1.1 billion over the longer term if the estate tax is fully repealed, as the House bill would do.
We rate the statement False.
POST YOUR OPINION BELOW: 
POLITIFACT.COM
http://www.politifact.com/truth-o-meter/statements/2017/nov/30/donald-trump/will-gop-tax-bill-cost-donald-trump-fortune-no/
Senate passes tax overhaul, securing major GOP victory
Details

Published on

02 December 2017
The Senate passed legislation to overhaul the tax code early Saturday morning,handing Republicans a badly needed legislative and political victory.
Senators voted 51-49 to pass the plan, capping off days of debate and hand wringing as leadership worked frantically behind the scenes to win over holdouts and get the proposal in line with the chamber's rules.
Republican Sen. Bob Corker (R-Tenn.) bucked party leadership and voted against the plan amid lingering concerns over the impact on the deficit. No Democratic senator supported the legislation, with Democrats quickly leaving the chamber after voting no.
Vice President Pence presided over the final passage vote. GOP senators, who stayed on the Senate floor until the vote closed after midnight, broke out into applause after Pence announced the bill had passed.
"This is a great day for the country," Majority Leader Mitch McConnell (R-Ky.) said during a 2 a.m. press conference after the vote.
"We have an opportunity now to make America more competitive, to keep jobs from being shipped off shore and to provide substantial relief for the middle class."
Corker, who is retiring after 2018, said in a statement ahead of the vote that he "wanted to get to yes" on the tax plan.
"But at the end of the day, I am not able to cast aside my fiscal concerns and vote for legislation that I believe, based on the information I currently have, could deepen the debt burden on future generations," he said.
The bill would lower tax rates for individuals through 2025 and permanently cut the corporate tax rate from 35 percent to 20 percent. The bill's tax cuts for individuals are temporary in order to comply with budget rules that the measure can't add to the deficit after 10 years.
The bill would also repeal ObamaCare's individual mandate, a priority for President Trump and many Republicans, and open up a section of the Arctic National Wildlife Refuge (ANWR) for drilling.
Republican senators will now move to reconcile their legislation with the House's proposal, passed in mid-November, as they try to get a final product to Trump's desk by the end of the year.
The vote in the early morning hours of Saturday came after Trump met this week with key senators, including leadership and holdouts. Marc Short, the White House director of legislative affairs, was also spotted outside of the Senate chamber in the hours leading up to Saturday's vote.
McConnell had a narrow path to getting the bill through the upper chamber. With a 52-seat majority, he could only afford to lose two GOP senators and still let Pence break a tie.
But GOP leadership appeared confident on Friday that they would be able to pass the legislation after GOP Sens. Ron Johnson (Wis.) and Steve Daines (Mont.) came on board.
Johnson and Daines had been pressuring for a larger tax deduction for small-and-mid-sized businesses known as "pass throughs."
Johnson noted that Republicans had been able to get the deduction percent increased from 17.4 to 23 percent and that he would be involved in further pass-through discussions as lawmakers work to get the bill to Trump's desk.
"A seat at the table. Not just input. Not just consulting, but a seat at the table," Johnson said when asked what leadership promised him in exchange for voting yes.
Passage of the tax plan became clear earlier Friday when Sen. Jeff Flake(R-Ariz.) gave leadership their 50th vote for the plan.
The Arizona Republican, who is retiring after 2018, said that in addition to getting rid of a "budget gimmick" relating to the full expensing of capital investments that he had also gotten a commitment on the Deferred Action for Childhood Arrivals (DACA) program.
Sen. Susan Collins (R-Maine), a moderate who voted against the GOP's ObamaCare repeal efforts, also voted in favor of the tax bill after getting several of her amendments into the bill, including the restoration of a $10,000 deduction for property taxes and a lower threshold for deducting medical expenses.
"I will cast my vote in support of the Senate tax reform bill. As revised, this bill will provide much-needed tax relief and simplification for lower- and middle-income families, while spurring the creation of good jobs and greater economic growth," Collins said.
To pay for the last-minute changes, Republicans made changes including restoring the alternative minimum tax in the bill, but raising the exemption amounts, and increasing rates for the repatriation of foreign earnings currently held overseas.
But passage of the Senate legislation wasn't without drama. Republicans haggled over the details of the bill and key provisions remained unfinished in the hours leading up to the final passage vote.
And the bill seemed to be on the brink of defeat after deficit hawks, led by Corker, appeared ready to send the legislation back to the Finance Committee as they tried to get a promise that the legislation wouldn't increase the deficit.
McConnell defended the legislation the early morning press conference with GOP senators, saying he was "totally confident" the bill would not add to the deficit. 
"I think it's going to be a revenue producing," he said. 
Corker, Flake and Sen. James Lankford (R-Okla.) had pushed for a "trigger" that would spark automatic tax increases if the legislation didn't meet economic growth forecasts. But they were told by the parliamentarian that it didn't comply with the rules.
GOP leadership initially offered to include automatic tax increases, which sparked near immediate backlash from across the caucasus.
"It would have been counterproductive to the central objective of this legislation, which is bringing back jobs and economic growth," Cruz said. "And after extended discussion with a number of senators a consensus emerged that we shouldn't be raising taxes."
Sen. Pat Roberts (R-Kan.), asked about the plan, added that his colleagues should "just quit fooling around."
In the end, Republicans dropped the tax hikes, arguing they were confident the legislation would boost the economy.
That's despite the fact that the Joint Committee on Taxation said the version of the bill that passed the Finance Committee last month would cost about $1 trillion in its first decade after accounting for economic growth.
"I think most of us have made it pretty clear that just on looking at the analysis that was done in the most recent scoring we just think they're way off in their analysis," said Sen. Mike Rounds (R-S.D.). "It just doesn't add up to us."
Democrats warned that the bill would put a hole in the deficit, and mostly benefit wealthy individuals and businesses at the expense of the middle class.
"All of the claims that tax cuts for the wealthy and corporations will pay for themselves were not correct. It's time for my Republican friends to admit their error and come clean with the American people," said Senate Minority Leader Charles Schumer (D-N.Y.).
Sen. Chris Murphy (D-Conn.) tweeted out an image of a unicorn, writing: "Unicorns are real. Tupac is still alive. Borrowing money to pay for tax cuts for the rich shrinks the deficit."
Democrats used the free-wheeling floor drama, known as vote-a-rama, to force Republicans to take politically tough votes even though it was clear the legislation would pass. They also criticized what they called a lack of transparency, with GOP leaders releasing amended legislation hours before the vote.
McConnell hit back at Democrats, arguing they were complaining about the process because they lost the fight over the tax legislation. 
"This was done through regular order. The Democrats had plenty of notice. ... You complain about process when you're losing and that's what you heard on the floor 

tonight

," he said after the vote.
Still, a Democratic amendment did pass striking a provision that would have allowed colleges that don't take federal funding to be exempt from an endowment tax. Democrats argued that the provision would have primarily benefited Hillsdale College, a conservative college in Michigan.
Senators also rejected a push by GOP Sens. Marco Rubio (Fla.) and Mike Lee (Utah) to make the child tax credit refundable to payroll taxes, and pay for it by raising the bill's corporate tax rate from 20 percent to 20.94 percent.
But an amendment from Cruz to allow taxpayers to use funds from 529 plans for K-12 education, including home schooling, was added to the bill after Pence was called in to break a tie.
The House and Senate are expected to work out the differences in a conference committee in the coming weeks.
The bills differ in a number of ways. The House bill has four individual tax brackets with a top rate of 39.6 percent, while the Senate bill has seven brackets with a top rate of 38.5 percent. The corporate rate cut takes effect in 2018 in the House bill, but takes effect in 2019 in the Senate bill.
Other differences relate to the child tax credit, the estate tax, pass-through businesses and international tax provisions.
POST YOUR OPINION BELOW: 
THEHILL.COM
http://thehill.com/homenews/senate/362891-senate-passes-tax-overhaul-securing-major-victory