Top News
The next Republican uprising is underway
Details

Published on

30 September 2017
Roy Moore's easy victory in Alabama's Republican Senate runoff says something about President Donald Trump, who tried and failed to sell Moore's opponent to the party base. But it says a lot more about the toxic disconnect between the GOP's Washington establishment and its grass-roots voters.
That's a far bigger story, with implications for the 2018 midterms, Trump's re-election, the futures of Senate Majority Leader Mitch McConnell and Speaker Paul Ryan, and maybe even the nature of politics.
Moore's win is best viewed in the context of a series of uprisings within the Republican Party that began during Barack Obama's presidency. The circumstances have varied, but the pattern is consistent: candidates who would once have been easy to dismiss as marginal figures knocking off impeccably credentialed men and women of the establishment in primary elections.
The first wave of them began in 2010, with Christine O'Donnell in Delaware, Joe Miller in Alaska and Rand Paul in Kentucky. Two years later, it was Richard Mourdock in Indiana and Todd Akin in Missouri. There were others, too, and not just in Senate races.
The turmoil was traumatic for national Republicans. The insurgents complicated the party's prospects in major races, and in some cases handed victories to Democrats. They also injected fear into GOP incumbents — they might be the next victims of what was labeled the Tea Party rebellion.
The establishment scrambled to understand the anger. If its leaders could just translate it into a legislative program, then they'd restore order within their party.
The task looked simple enough. Tea Party rallies were attacking Obama's stimulus and health care programs and highlighting the rising national debt. The movement seemed to have a libertarian bent, animated by the size of government and a sense that Republicans weren't doing enough to contain it. So Republicans in Washington redoubled their opposition to Obama and his programs and pushed for spending cuts.
The 2014 primary season was calmer, but there was a glaring exception: Eric Cantor, the House majority leader, was ousted in a surprising primary upset in his Virginia district. The party establishment was doing a better job fortifying itself with the traditional tools of politics, but deep grass-roots restiveness remained.
It was that restiveness that Trump rode to the Republican presidential nomination in 2016.
His platform, to the extent he had one, violated much of the conventional wisdom about the Tea Party movement. He wasn't fixated on the size of government and talked of protecting Social Security and Medicare. He advocated repealing Obamacare, but separated himself from the GOP field by insisting government did have a role to play in protecting people. He also showed protectionist instincts on trade.
His overlap with the GOP base was on cultural grounds — the wall, the Muslim ban, thumbing his nose at "political correctness." And there was his posture of antagonism toward the party establishment. He did nothing to cultivate support from elected officials, and didn't receive his first endorsement from a member of Congress until after he won the New Hampshire primary. Even then, they only trickled in. More than that, Trump reveled in provoking the establishment, and conveyed indifference to its disgust at his culture-war politics.
The term Tea Party was fading out, but he'd cracked its code. The power of his appeal was not rooted in policy or ideology. He was offering, as David Brooks wrote this week, "to shred the dominant American culture and to give voice to those who felt voiceless in that culture." And not to give a damn about the party establishment or the conventions of politics along the way. It got him the GOP nomination and just enough converts in the Rust Belt to eke out an Electoral College win.
This is why his presidency has produced no meaningful legislative feats. The commitment of the Trump base to doing away with Obamacare is mainly attitudinal. The legislation Republicans have come up with has generated, at best, a lukewarm response from GOP voters — and wide disapproval from the rest of the electorate. Trump himself has seemed detached from and uninterested in the process, as if he senses that legislative sausage-making might rebrand him as exactly the kind of politician he ran against.
Meanwhile, Trump throws himself with abandon into culture-war battles, as he's now doing with the NFL, and he accuses the GOP's congressional leaders of failing him. It leads pundits to scratch their heads. How will he ever rack up actual accomplishments if he's alienating the legislators he needs to pass bills?
The Trump base doesn't seem to want those kinds of accomplishments, though.
Consider what just happened in Alabama. Trump sided with Luther Strange, the appointed incumbent and favorite of the GOP establishment. It was an awkward match but Trump's pitch was loyalty: "Big Luther" had pledged his unblinking support for the Trump legislative agenda, starting with the Obamacare replacement bill.
By contrast, Moore declared himself against that same bill, but insisted it wasn't an act of defiance. He was offering himself as a different kind of Trump loyalist — the kind of who would curb the influence of McConnell and the Washington insiders and allow Trump to be Trump
In that sense, Moore's appeal is very similar to Trump's. He's positioned in fervent opposition to the party's establishment and draws his identity from cultural politics of a variety even more inflammatory than Trump's. Strange was offering Alabama Republicans a Capitol Hill-ized version of Trumpism, but it was the Moore model they wanted.
Potential insurgencies just like this now loom for Republican incumbents in next year's midterm primary season. Sen. Jeff Flake in Arizona has to worry. Sen. Dean Heller in Nevada, too. Maybe Sen. Roger Wicker in Mississippi. Tennessee's Bob Corker, a fixture of the establishment, just decided to walk away. As in 2010 and 2012, there could be unlikely opportunities for Democrats to capitalize and make gains they never expected.
It could be a moment of reckoning for the leaders of Washington's Republican establishment. For nearly a decade, they have strained to channel the base's energy into a unifying platform. But it may be that all the base has ever really wanted was for them to be gone — all of them.
POST YOUR OPINION BELOW: 
AOL.COM
https://www.aol.com/article/news/2017/09/28/the-next-republican-uprising-is-underway/23226471/
Tom Price Resigns As Health And Human Services Secretary
Details

Published on

30 September 2017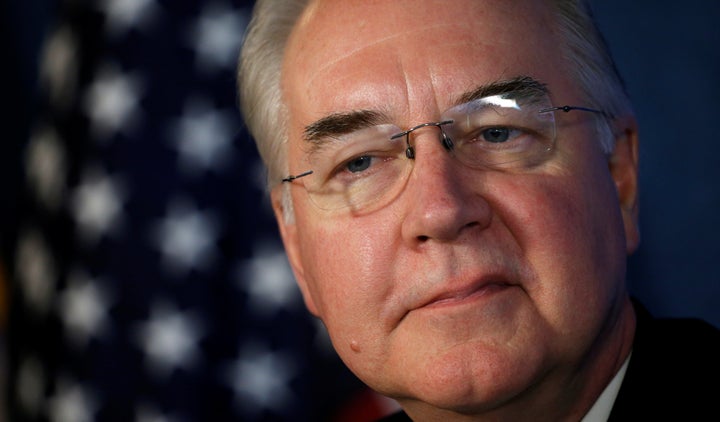 He cost taxpayers over $1 million by using private planes for official travel.
Health and Human Services Secretary Tom Price has resigned his post just a week into a growing scandal over his frequent use of chartered and military flights that cost American taxpayers more than $1 million.
The White House announced the news in a statement Friday afternoon:
Secretary of Health and Human Services Thomas Price offered his resignation earlier today and the President accepted.  The President intends to designate Don J. Wright of Virginia to serve as Acting Secretary, effective at 11:59 p.m. on September 29, 2017.  Mr. Wright currently serves as the Deputy Assistant Secretary for Health and Director of the Office of Disease Prevention and Health Promotion.
Politico first reported that Price had frequently chartered private jets to travel around the country, breaking a long-standing precedent from his predecessors who often flew commercial. The outlet identified dozens of private flights, costing more than $400,000, since May. Just days later, Politico also reported that Price had flown to Africa, Europe and Asia this spring on military aircraft at a cost of more than $500,000. 
Price's wife, Betty, traveled with him on the military plane while other people in his delegation flew commercial, according to the latest report. A HHS spokeswoman said Price had reimbursed the agency for his wife's travel.
Price tried to quell the firestorm over his travels at the end of September, saying he would stop flying private pending a formal review of his travel by the HHS inspector general.
He also pledged to reimburse the government for the cost of his seat on all of the chartered flights. He said he would write a check for nearly $52,000, noting taxpayers "won't pay a dime for my seat on those planes." However, those claims came under fire after they seemed to imply that Price wouldn't reimburse taxpayers for the total costs of the flights, which included charges for fuel, taxes and additional fees. 
President Donald Trump had earlier said he was "not happy" about Price's lavish travel and said at the time that "we'll see" when asked if he would fire the secretary.
Price's tenure in the Trump administration began much as it ended: mired in controversy.
The former congressman's personal financial activity came under scrutiny during his January confirmation process, amid reports that he had regularly traded health industry stocks while sitting on the House Ways and Means Committee, in potential violation of a 2012 law banning insider trading in Congress. Price was specifically accused of lying to senators in sworn testimony about buying discounted stock in an Australian biotech company in 2016, after receiving a tip from a colleague who sat on the company's board. Price then backed legislation that could have sped up the approval process for the company's medical device technology.
As health and human service secretary, Price also led Trump's unsuccessful campaign to repeal Obamacare. Trump told a crowd of Boy Scouts over the summer that Price would be "fired" if he couldn't wrangle the votes in the Senate to pass a repeal measure. Days later, Sen. John McCain (R-Ariz.) cast the decisive "no" vote on the bill.
Price has also been criticized for his approach on the opioid epidemic. In May, he spoke out against medication-assisted treatment for addiction, equating it to "substituting one opioid for another" and touting faith-based, abstinence-only methods instead. Scientific studies have shown medication to be the most effective form of treatment for people suffering from opioid use disorder.
Roy Moore Beats Trump's Choice To Claim Alabama's GOP Senate Nomination
Details

Published on

27 September 2017
Controversial former judge Roy Moore won Alabama's Republican Senate nomination on Tuesday over incumbent Luther Strange in a major setback for President Donald Trump and Senate Majority Leader Mitch McConnell. Trump traveled to Alabama just last Friday to headline a raucous rally touting Strange. A McConnell-aligned super PAC spent millions of dollars to help the senator, who was appointed earlier this year to the seat vacated by U.S. Attorney General Jeff Sessions. And in a final push on behalf of Strange, Vice President Mike Pence campaigned with him at a closing rally Monday night in Birmingham, the state's largest city.
It all turned out for naught, with Moore's victory dealing a bitter blow to the GOP's establishment wing. His win comes at a critical time as Republican lawmakers in Washington struggle to unite around key legislative goals on health care and taxes.
The Senate Leadership Fund, a super PAC tied to McConnell that spent vast sums on Strange's behalf, conceded defeat before the results were officially called.
"While we were honored to have fought hard for Big Luther, Judge Roy Moore won this nomination fair and square and he has our support, as it is vital that we keep this seat in Republican hands," Senate Leadership Fund President Steven Law said in a statement.
Strange was seen by McConnell and other GOP Senate leaders as a reliable member of their caucus. Moore, meanwhile, has reveled in casting himself as an outsider. And in solidly Republican Alabama, he is a prohibitive favorite to win the Dec. 12 special election against Democrat Doug Jones.
Trump carried the Cotton State overwhelmingly in last year's presidential election, but Strange's rebuke casts some doubt on his influence just eight months into his presidency ― one that could signal troubles ahead for his party in next year's midterm elections.
Trump himself, at last week's rally, conceded he may have made a mistake in his pick and bemoaned that a Strange loss would be depicted as a "total embarrassment" for him. He also pledged to campaign for Moore in the event of a Strange loss.
Moore successfully turned the nomination race into a referendum on McConnell while casting himself as pro-Trump, despite not having the president's backing. He effectively portrayed Strange's association with McConnell as an example of the Washington "swamp" that Trump has frequently derided and that many of the president allies believe is thwarting his legislative priorities.
"President Trump's being cut off in his office. He's being redirected by people like McConnell who do not support his agenda ― who will not support his agenda in the future," Moore said during a debate with Strange last Thursday.
Moore, 70, is a staunch conservative who has made a litany of contentious statementsover the years. He became known nationally for his refusal to remove a monument of the Ten Commandments from the Alabama Judicial Building ― a stance that led to his ouster as chief justice of the state's Supreme Court in 2003.
He won election to that office again in 2012, but was suspended from it last year after ordering state judges not to grant same-sex marriage licenses despite the U.S. Supreme Court's nationwide legalization of such unions.
Moore has been particularly vocal on LGBTQ issues ― saying in 2005 that "homosexual conduct should be illegal." 
Strange, 64, had little success making a dent in the core of support for Moore, who appeared as impervious to attacks as Trump. Ads financed by the McConnell-linked super PAC disputed Moore's conservative credentials. And on the eve of Tuesday's vote, Strange upped the ante by comparing Moore to Todd Akin, the failed 2012 Senate GOP candidate in Missouri. Akin had been favored to win his race until he told an interviewer that pregnancy rarely occurs as a result of what he called "legitimate rape."
In an interview Monday with The Washington Examiner, Strange said that ― like Akin ― Moore would prove "an anchor around the neck" of other Republicans because of his views.
Still, Moore led in every public poll preceding Tuesday's vote.
Strange struggled to overcome his link to Robert Bentley, the widely disliked former Alabama governor who appointed him to the Senate in February. As Alabama's attorney general, Strange faced accusations of stalling an investigation into Bentley, who resigned in April amid a sex scandal. 
Tuesday's vote was set up after Moore finished first and Strange second in a 10-candidate GOP primary last month. They faced off because neither received more than 50 percent of the vote in that first round of voting.
The runoff campaign spotlighted divisions in the Republican Party in the Trump era. Steve Bannon, who left his White House job as Trump's chief strategist in mid-August and returned to his prior post of running the conservative website Breitbart News, marshaled anti-establishment forces ―including former Alaska Gov. Sarah Palin ― against Strange. And Bannon teamed up with Moore for a rally Monday night near Mobile, Alabama.
"We did not come here to defy Donald Trump, we came here to praise and honor him," Bannon told the crowd. "A vote for Judge Roy Moore is a vote for Donald J. Trump."
Jones, the 63-year-old Democratic nominee, has an impressive record. As a U.S. attorney in Alabama in 1997, he led the successful prosecution of two of the Ku Klux Klan members responsible for bombing Birmingham's 16th Street Baptist Church on Sept. 15, 1963, in which four girls were killed. His campaign also got a boost last week when former Vice President Joe Biden announced he would stump for him.
So far, Jones has not faced much scrutiny. He "hasn't had any single negative ad run against him yet," Alabama radio talk show host Dale Jackson said. He added that Jones "was a defense attorney for a long time," suggesting that the Democrat's past caseload could become fodder during the general election campaign.
No Democrat has won a Senate election in Alabama since 1992. And that senator ― Richard Shelby, who remains in office ― switched to the GOP in 1994.
Democrats said they plan to tie other Republicans to Moore's most controversial actions and statements, arguing that his candidacy will be a drag on the GOP across the country.