Top News
Trump Recorded Campaign Robocall For Roy Moore
Details

Published on

10 December 2017
Donald Trump agreed to record a campaign robocall supporting GOP Alabama Senate candidate Roy Moore that will be dialed into homes the day before the special election, Politico reported. The initial report, citing an unnamed source, was confirmed Saturday by deputy White House press secretary Raj Shah, according to CNN, which said the call had already been recorded. It is not known what the president said about Moore in the recording, but the call will be sent out Monday. The special election to fill the seat left open by Attorney General Jeff Sessions is Dec. 12.
Despite several accusations of sexual misconduct against Moore, Trump came out fully in support of the candidate on Monday, tweeting: "We need his vote" in the Senate. In the most damning accusation against Moore, Leigh Corfman told The Washington Post that Moore, who was in his 30s at the time, removed her clothing and groped her when she was just 14 years old. Moore has denied all the accusations.
Trump hasn't yet hit the streets in Alabama to campaign for Moore. But he urged people to get out and vote for Moore at a rally Friday in Pensacola, Florida, which is close to the Alabama border. The progressive organization American Bridge 21st Century parked a truck outside the rally sporting a large ad quoting daughter Ivanka Trump's take on Moore: "There's a special place in hell for those who prey on children."
Despite Trump's support for Moore, several Republicans have called for him to drop out of the race because of the accusations against him. House Speaker Paul Ryan (R-Wis.) reiterated Thursday that he believes Moore should have stepped aside. "I think he should have dropped out," Ryan told reporters. "I stand by what I said before."
Harvard: Millennials now biggest voting group in U.S., 2-1 Democratic
Details

Published on

06 December 2017
A new Harvard University poll Tuesday is blaring a loud danger signal to the Republican Party after finding that millennials are now the largest generation of voters and they are overwhelmingly Democratic, by a two-to-one margin.
The latest youth poll from Harvard's influential Institute of Politics found that America's 18-29-year-olds prefer Democrats 65 percent to 33 percent, in part because they don't like President Trump and are "fearful" about the future.
Also driving their concern is a worry that blacks and Hispanics "feel significantly under attack" in the U.S., and that issues younger voters care about such as global warming and gun control are being ignored in Washington.
"American political institutions are at a tipping point," said John Della Volpe, polling director at Harvard Kennedy School's Institute of Politics. "Millennials are now the largest generation in the electorate. This poll and the Virginia election show that they are becoming more motivated — and I believe the fear that exists today about our future will soon be turned into the fuel that will reform our government. The only question is whether this comes from inside or outside the traditional party structure."
The poll, just released at 10 a.m., is widely anticipated by political analysts of both parties as they figure out where younger voters are and what issues they are tuned in to. Della Volpe's operation has done 34 youth polls since 2000.
Key findings from the poll analysis:
Just 14 percent of young Americans believe America is generally headed in the right direction; at this moment, fear outpaces hope for our future, 67 percent to 31 percent.
President Trump job approval rating down 7 points to 25 percent since spring; down 12 points among young Republicans, 8 points among Independents.
79 percent of young Americans concerned about the state of race relations today; 68 percent of black Americans and 46 percent of Hispanics believe their race is under attack "a lot" in America, while 15 percent of whites feel the same way.
Democratic control of Congress preferred 2:1; Democrats more engaged, Republicans less so, compared to 2014 midterm cycle; motivation among Democrats +9 since January.
Despite Democratic advantages, only 34 percent agree that the party cares about people like them; 21 percent believe same is true for Republican Party and 19 percent for president.
67 percent of Millennials believe that America's greatest threats come from forces inside, not outside, our country. In response to an open-ended question about top threats, President Trump, "ourselves," and racism were the top responses.
61 percent of young Americans believe gun laws should be more strict, representing a marked change since 2013 when less than half (49 percent) felt the same way.
50 percent of young Americans have little to no confidence that the U.S. midterm elections in 2018 will be free from Russian interference.
By more than a 3:1 margin, young Americans believe that social media platforms like Facebook, Twitter and YouTube have an obligation to regulate fake news; this is a non-partisan issue, as Democrats (53 percent) and Republicans (52 percent) hold similar views.
WASHINGTONEXAMINER.COM
http://www.washingtonexaminer.com/harvard-millennials-now-biggest-voting-group-in-us-2-1-democratic/article/2642567
Republican National Committee reinstates support for Roy Moore in Alabama amid sexual misconduct scandal
Details

Published on

05 December 2017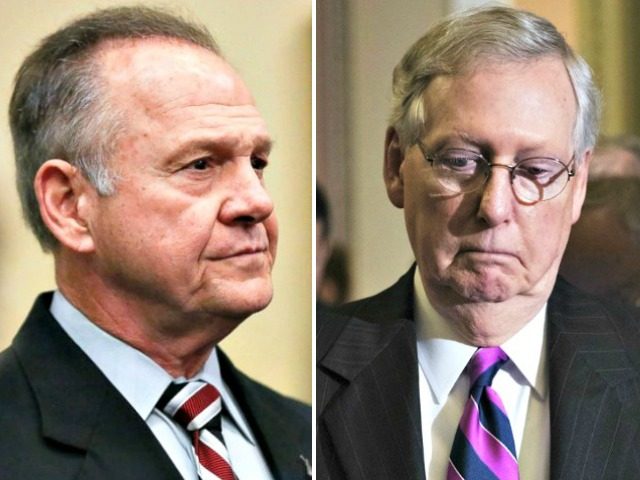 The Republican National Committee reinstated its support for Alabama Senate candidate Roy Moore on Monday after President Donald Trump endorsed the special-election candidate embroiled in accusations of child molestation and sexual misconduct.
An RNC official confirmed to Business Insider its revamped support for Moore, which was first reported by Breitbart News.
Several women have come forward accusing Moore of sexual misconduct, many of whom were teenagers as young as 14 years old at the time.
The allegations, which were corroborated by dozens of sources from multiple news outlets, prompted Republican lawmakers and groups to withdraw support for Moore last month, including the RNC and the National Republican Senatorial Committee.
The RNC and NRSC withdrew from the joint fundraising agreement with Moore's campaign. The NRSC chairman, Sen. Cory Gardner, even demanded the Senate to expel Moore if he were to win. The NRSC did not respond to an emailed request for comment regarding whether they maintain the position that Moore should be expelled if he wins the special election on December 12.
POST YOUR OPINION BELOW: 
AOL.COM
https://www.aol.com/article/news/2017/12/04/republican-national-committee-reinstates-support-for-roy-moore-in-alabama-amid-sexual-misconduct-scandal/23297064/