Top News
Elizabeth Warren Says 2016 Democratic Nomination Rigged For Hillary Clinton
Details

Published on

03 November 2017
Sen. Elizabeth Warren (D-Mass.) said "yes," she believes the 2016 Democratic nomination for president was rigged in favor of Hillary Clinton, and that the party faces "a real problem" in dealing with the fallout from the revelation that Clinton's campaign secretly took over control of the Democratic National Committee in 2015.
Responding to the disclosure by Donna Brazile, who became interim chairwoman of the DNC as last year's election approached, Warren told CNN's Jake Tapper on Thursday that Democratic leaders must restore faith in the party's operations.
"What we've got to do as Democrats now is hold this party accountable," Warren said, adding that the current DNC chairman, former Labor Department Secretary Tom Perez is "being tested."
She said that when Perez won the party post early this year, "the very first conversation I had with him [was] to say, you have got to put together a Democratic Party in which everybody can have confidence that the party is working for Democrats, rather than Democrats are working for the party."
Brazile wrote in her new book, Hacks: The Inside Story of the Break-ins and Breakdowns that Put Donald Trump in the White House, that shortly after she took the DNC job in late July 2016, she discovered the Clinton campaign had signed an agreement to help keep the DNC financially alfoat, a deal in "which [Clinton] expected to wield control of its operations."
The agreement between the DNC and the Clinton camp was signed in August 2015, several months before the primary season began and almost a full year before she officially secured the nomination over Vermont Sen. Bernie Sanders (I).
The Clinton campaign "had the DNC on life support, giving it money every month to meet its basic expenses, while the campaign was using the party as a fund-raising clearing house," Brazile said in her book, to be released on Tuesday.
"The funding arrangement ... was not illegal, but it sure looked unethical," Brazile wrote.
The excerpt, first published in Politico, includes details about Brazile's call to Sanders after she discovered the arrangement, set up under her predecessor, Rep. Debbie Wasserman Schultz (D-Fla.).
Senate Republicans Resist Calls For Robert Mueller's Resignation
Details

Published on

01 November 2017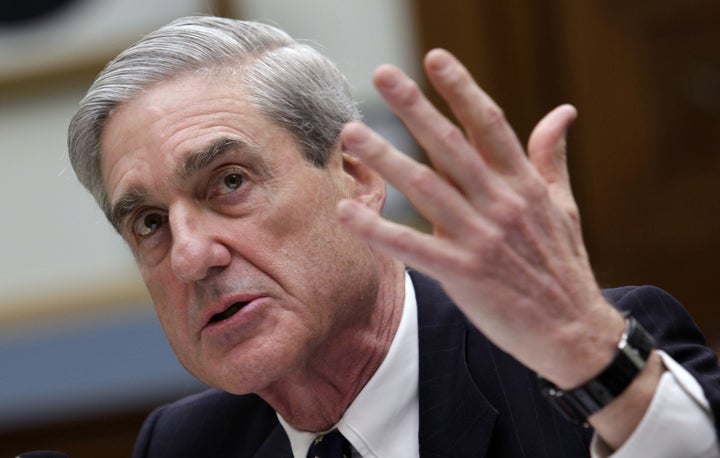 Republicans say special counsel Robert Mueller, who leads an intensifying investigation of Russia's meddling in last year's presidential election, ought to remain in his post until he finishes the probe. "He's doing the job he's been asked by the American people to do. He should stay at it and finish it," Sen. James Lankford (R-Okla.) told HuffPost on Tuesday.
Charges of tax fraud and money laundering were announced on Monday against Paul Manafort, the former chairman of Donald Trump's presidential campaign, and Rick Gates, who also worked on Trump's successful White House bid. Meanwhile, Mueller disclosed that George Papadopoulos, who advised the Trump campaign on foreign affairs, had pleaded guilty to lying to the FBI about contacts with Russian officials.
The development spurred fresh criticism about the direction and scope of Mueller's investigation.
"Mueller has become an out-of-control prosecutor," former House Speaker Newt Gingrich (R-Ga.) told Fox News' Sean Hannity on Monday. He added that the special counsel ought to instead investigate 2016 Democratic presidential nominee Hillary Clinton and other Democrats ― a refrain heard earlier in the day on Fox News.
Before Monday, the call for Mueller to step down had been sounded in a pair of Rupert Murdoch-owned news outlets, which cited his ties to former FBI Director James Comey ―fired by Trump earlier this year ― as inappropriate.
"Mr. Mueller is a former FBI director, and for years he worked closely with Mr. Comey," a Wall Street Journal editorial said last week. "It is no slur against Mr. Mueller's integrity to say that he lacks the critical distance to conduct a credible probe of the bureau he ran for a dozen years. He could best serve the country by resigning to prevent further political turmoil over that conflict of interest."
An op-ed in The New York Post echoed the call for Mueller's resignation a few days later. Columnist Michael Goodwin said it was time for the special counsel to "say ­bye-bye."
Senate Republicans, though, are steering clear of such suggestions.
"The special counsel has his job to do and we're going to concentrate on what we're doing here in the Senate," Senate Majority Leader Mitch McConnell (R-Ky.) said at his weekly press conference on Tuesday at the Capitol.
Sen. Roy Blunt (R-Mo.), vice-chairman of the Senate GOP conference, agreed ― at least for now.
"I might reach that conclusion at some point [that Mueller should resign], but based on the information I have right now I have no reason to believe he can't do his job as special counsel," Blunt said.
Asked about the Journal's editorial, Sen. Johnny Isakson (R-Ga.) said he didn't remember the newspaper "getting elected to anything."
He added: "I'm not going to get engaged in that discussion right now. [Mueller's] been appointed for a purpose, let him carry that purpose out, and let the evidence take us where it may."
Sen. Richard Shelby (R-Ala.) said it was "a little early" for talk of Mueller resigning.
Who Wins in the Fake News War? Not You!
Details

Published on

31 October 2017
Here's a statistic from a Politico poll that will warm the hearts of many Donald Trump supporters -- and trouble just about everybody else: Nearly half the American people -- 46 percent -- believe journalists flat out make up phony stories to hurt the president and his administration.
When you count only Republicans in the poll, 76 percent think the media invent stories about the president. And when you dig even deeper and count only voters who strongly approve of the president's job performance, it's up to 85 percent who believe the media concoct stories about the president and his administration.
Only 37 percent of those polled believe that journalists do not fabricate stories.
Given the near daily pounding the media take from this president -- who has called journalists the "enemy of the American people" -- it shouldn't surprise us that so many Americans don't trust them. Here's a tweet from the president at 6:32 in the morning on July 12: "Remember, when you hear the words 'sources say' from the Fake Media, often times those sources are made up and do not exist."
As with so many things, this president is just plain wrong. Journalists have biases; they make mistakes; sometimes they're sloppy; and worst of all, sometimes they have a political agenda. But fabricating stories that they know are not true, inventing fake news sources: that is so rare as to be virtually nonexistent.
According to a Monmouth University poll, 6 in 10 Trump supporters say they will never abandon the president -- ever! So when the president says the press is "disgusting," or that reporters are "tremendously dishonest," or that "they make up the stories" -- why wouldn't his acolytes believe him? They believe just about everything else he tells them.
I was trying to think of who else so many Americans would support, no matter what; who they would never abandon under any circumstances; who they have so much faith in. And all I could come up with was God.
Of course, the media are not innocent victims in all of this. Newsrooms are populated overwhelmingly by liberals whose coverage often reflects their liberal sensibilities and values. So the president's attacks on the media wouldn't resonate as much if reporters didn't live in a liberal bubble and weren't so openly hostile to him.
"Some may take pleasure in the discomfort of the media," Ken Stern, a former CEO of National Public Radio wrote in the New York Post, "but it is not a good situation for the country to have the media in disrepute and under constant attack. Virtually every significant leader of this nation, from Jefferson on down, has recognized the critical role of an independent press to the orderly functioning of democracy. We should all be worried that (so many) voters think there is a lot of fake news in the mainstream media and that our major media institutions are seen as creating, not combating, our growing partisan divide."
In a way -- not a good way -- both sides get something out of this turmoil: Donald Trump gets to give his base the red meat they crave, which draws them even closer to their savior. And journalists get to unload on a man many of them believe is unfit for office -- and at the same time, make money. Bashing Donald Trump is very good for business. Ask Stephen Colbert or the folks at "Saturday Night Live" or the commentators at MSNBC if you don't believe me.
Journalists, of course, should admit to their own shortcomings -- but it's something too many of them are unwilling to do. They should acknowledge that their liberal sensibilities too often infect their coverage of the news -- and that their hatred -- yes, that's the word I want to use -- of this president, has colored their coverage of him and his administration. They should be introspective enough to at least consider the possibility that it's their own failings that have led so many voters into the arms of Donald Trump.
But somebody needs to give Trump a message, too. Someone needs to tell him that he's the president of the United States now -- and that calling reporters names is beneath him and the office he holds.
Both sides may get something out of this no-stop feud, but only for a while -- because we're all losers in the long run. You can't have a free country -- not for the long haul -- without a mainstream press that the American people trust. And if people don't trust the mainstream media, they'll go to the dark corners of the web for their "news," a place where crazy rumors flourish in the muck and where genuine fake news thrives.
Both the president and his adversaries in the press should consider that.
TOWNHALL.COM
https://townhall.com/columnists/bernardgoldberg/2017/10/31/who-wins-in-the-fake-news-war-not-you-n2402557?utm_source=TopBreakingNewsCarousel&utm_medium=story&utm_campaign=BreakingNewsCarousel