Top News
ICYMI: MSNBC Host Asks Texas Gov. If He's Going To Use Hurricane As Cover To Ensnare Illegal Aliens
Details

Published on

28 August 2017
Texas is suffering the brunt of a major hurricane, but MSNBC's Stephanie Ruhle just had to ask Republican Texas Gov. Greg Abbott if he was going to use the storm as a means to deport more illegal aliens who venture into relief centers. At the time, Hurricane Harvey was barreling towards the state, gaining strength as it approached the state's Gulf Coast. Honestly, one would think that the governor would have more pressing matters than immigration enforcement, but Texas is a deep red state, liberals don't like it very much, Republicans are anti-immigrant (or so the Left says), and so this just had to be asked. Why? It's because that's how MSNBC does business. If they didn't keep liberal blood pressures at semi-normal levels, they wouldn't be doing their jobs:
STEPHANIE RUHLE: How about risk of deportation for those undocumented immigrants that could be in the way of the storm's path? Are they in the clear to go to some of these evacuation centers? Do they have to show ID?
GREG ABBOTT: It's my understanding from what I saw from the Border Patrol instructions yesterday that will not be an issue. What everyone is focused on right now is ensuring that we do all we can to protect life. We all have a high regard for life. We want to ensure the safety of all lives and we're prepared to take all measures to do so.
Yet, there's plenty of room for outrage. The American Civil Liberties Union is appalled that the Border Patrol will…keep doing their jobs and enforce federal immigration laws during the storm by keeping the checkpoints open. Yeah, liberals—when a storm is coming, you don't just stop enforcing the law. 
TOWNHALL.COM
https://townhall.com/tipsheet/mattvespa/2017/08/28/icymi-msnbc-host-asks-texas-governor-if-hes-going-to-use-hurricane-as-cover-to-ensnare-illegal-aliens-n2373977
Trump was wrong to pardon controversial U.S. sheriff, Ryan says
Details

Published on

27 August 2017
President Donald Trump should not have pardoned a former Arizona sheriff who was convicted of criminal contempt in a case of racial profiling, the Republican speaker of the House of Representatives, Paul Ryan, said on Saturday. Trump announced on Friday he was pardoning Joe Arpaio, an anti-immigration hardliner found guilty last month for flouting a 2011 court order that barred officers from detaining Latino motorists solely on the suspicion they were illegal immigrants.
"Law-enforcement officials have a special responsibility to respect the rights of everyone in the United States. We should not allow anyone to believe that responsibility is diminished by this pardon," Ryan said in a statement.
"The speaker does not agree with the decision," Ryan's spokesman Doug Andres said.
Some other prominent Republicans, including Arizona Senator John McCain and former Florida Governor Jeb Bush, have also criticized Trump for the controversial pardon.
Arpaio, 85, was an outspoken supporter of Trump's presidential campaign and both men have argued for tougher policies against illegal immigration.
As president, Trump has broad powers to issue pardons and he had said Arpaio was convicted for "doing his job."
Arpaio lost his own bid for re-election in Arizona's Maricopa County in November, after 24 years in office.
POST YOUR OPINION BELOW: 
AOL.COM
https://www.aol.com/article/news/2017/08/26/trump-was-wrong-to-pardon-controversial-u-s-sheriff-ryan-says/23186727/
John McCain Rips Donald Trump For Pardoning Joe Arpaio
Details

Published on

26 August 2017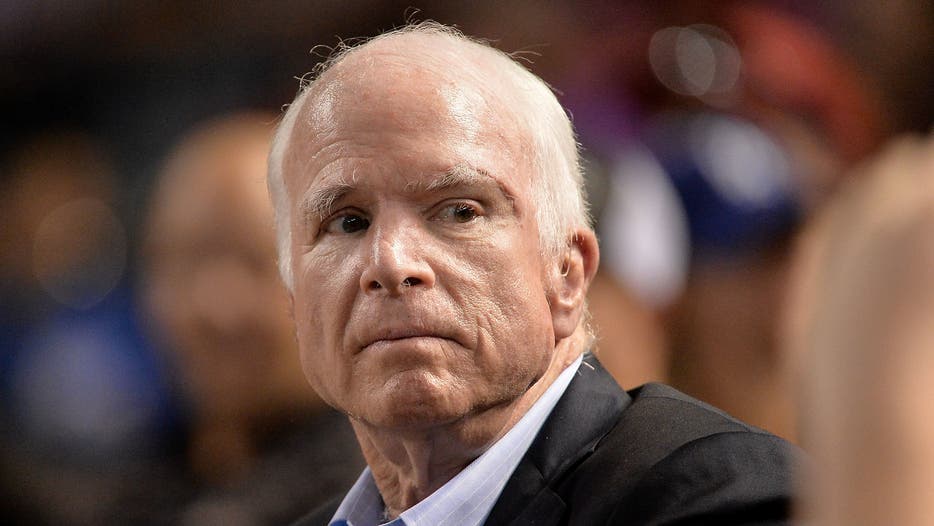 Sen. John McCain (R-Ariz.) harshly criticized President Donald Trump for pardoning Joe Arpaio, the former Maricopa County, Arizona, sheriff who was found guilty of criminal contempt after illegally targeting Latinos. Trump's pardon Friday of Arpaio, who was found to have "willfully violated" a 2011 court order barring him from detaining individuals based solely on suspicion about their legal status, was the first of his presidency.
McCain issued a statement after Trump's announcement, saying it undermined the president's professed respect for the rule of law.
"No one is above the law and the individuals entrusted with the privilege of being sworn law officers should always seek to be beyond reproach in their commitment to fairly enforcing the laws they swore to uphold," McCain said in the statement. "Mr. Arpaio was found guilty of criminal contempt for continuing to illegally profile Latinos living in Arizona based on their perceived immigration status in violation of a judge's orders. The President has the authority to make this pardon, but doing so at this time undermines his claim for the respect of rule of law as Mr. Arpaio has shown no remorse for his actions."
Arpaio supported Trump during the presidential campaign last year and both men have promoted the lie that former President Barack Obama was not born in the United States. The White House defended the pardon by saying the 85-year-old Arpaio had history working in law enforcement.