Top News
Trump reportedly shows Obama's Inauguration Day letter to Oval Office visitors
Details

Published on

03 September 2017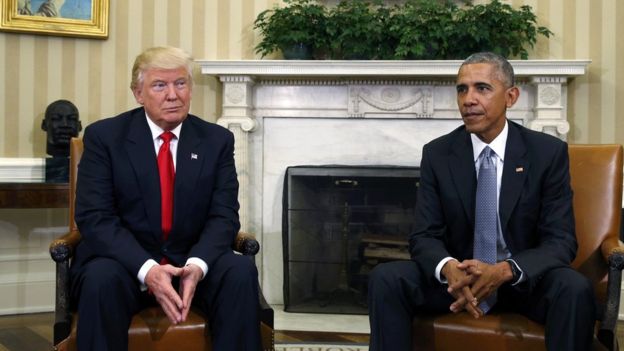 Former President Barack Obama's letter to President Donald Trump on Inauguration Day had four pieces of advice, CNN reported on Sunday.
After congratulating Trump on a "remarkable run," Obama said that the two of them and their predecessors had been "blessed, in different ways, with great good fortune."
"Not everyone is so lucky. It's up to us to do everything we can (to) build more ladders of success for every child and family that's willing to work hard," Obama wrote. 
Since receiving the letter, CNN reported, Trump has shown it to Oval Office visitors, as well as to people visiting his private White House residence. CNN received the letter from someone Trump showed it to.
Obama did not disclose the letter's contents to his closest aides, according to CNN.
Obama also wrote in the letter that it was up to the president to demonstrate American leadership by maintaining the international order "that's expanded steadily since the end of the Cold War."
Third, he said, it was critical for Trump to leave politics aside and maintain the democratic institutions that form the backbone of American democracy, including rule of law, separation of power, equal protection, and civil liberties — institutions that "our forebears fought and bled for."
Last, Obama recommended that Trump try and make time for friends and families despite the demands of the office.
"They'll get you through the inevitable rough patches," the former president wrote, before wishing Trump and incoming first lady Melania Trump success as they took over. 
It has become customary for outgoing presidents to leave letters for their successors, and every president has done so since George H.W. Bush wrote one for Bill Clinton.
Obama and Trump have not spoken since Inauguration Day. Since then, Trump has lobbed a number of public criticisms at his predecessor and his policies, including the Affordable Care Act and Obama's handling of Russia's interference in the 2016 election.
POST YOUR OPINION BELOW: 
AOL.COM
https://www.aol.com/article/news/2017/09/03/trump-reportedly-shows-obamas-inauguration-day-letter-to-oval-office-visitors/23195410/
Paul Ryan Says Trump Should Not End Protections For Dreamers
Details

Published on

01 September 2017
House Speaker Paul Ryan (R-Wis.) said Friday that President Donald Trump should not terminate a program protecting young undocumented immigrants who come to the U.S. as children, even though he and other Republicans have repeatedly tried to end it in Congress. "I actually don't think he should do that," Ryan said concerning reports that Trump will end the Deferred Action for Childhood Arrivals program, which could be killed as early as Friday. "I believe that this is something that Congress has to fix."
White House press secretary Sarah Huckabee Sanders said Friday afternoon that Trump will announce a decision on DACA, which has allowed nearly 800,000 so-called "Dreamers" to receive two-year work permits and deportation reprieve, on Tuesday. Attorneys general from 10 states threatened the president with legal action if he doesn't terminate the program by Sept. 5, and there were reports on Thursday and Friday that he plans to do so, although the White House has said it is still under review. 
Ryan is a longtime opponent of DACA. He said on Friday that President Barack Obama, who created the program in 2012, "did not have the legislative authority to do what he did" and that presidents cannot "write law out of thin air."
"Having said all of that, there are people in limbo," Ryan added. "These are kids that know no other country, who were brought here by their parents and don't know another home, and so I really do believe there needs to be a legislative solution, that's one that we're working on."
Trump vowed during his presidential campaign to end DACA, which he, like Ryan and other Republicans, has said is unconstitutional. If he followed through, current recipients would be unable to work legally and would be at risk of deportation. Although the Trump administration has said its focus is deporting criminals, it routinely detains other undocumented immigrants it encounters as well ― Dreamers among them. 
Ending the program would also put intense pressure on Republicans in Congress to pass legislation to protect Dreamers, which many of them have opposed in the past. Along with attempting to end DACA, Ryan voted in 2010 against the Dream Act, which would give a path to citizenship to Dreamers, and declined to hold a vote on comprehensive immigration reform. He, like Trump, has also stated general support for Dreamers and allowing them to remain in the country.
Other Republicans have also voiced support for maintaining DACA as Trump weighs ending the program. Sen. Orrin Hatch (R-Utah), an original sponsor of the Dream Act in 2001 who opposed it in 2010, issued a statement on Friday saying he had urged Trump not to terminate DACA and would work on legislation to help Dreamers. 
Other Republicans have already backed legislation to give protections to Dreamers. Three Senate Republicans ― Sens. Lindsay Graham (R-S.C.), Jeff Flake (R-Ariz.) and Lisa Murkowski (R-Alaska) ― are co-sponsors of the 2017 iteration of the Dream Act, which was also introduced in the House with support from two Republicans, Rep. Mike Coffman (R-Colo.) and Rep. Ileana Ros-Lehtinen (R-Fla.). 
Groups of Republicans have also pushed for the Bridge Act, which would be a stopgap measure to temporarily extend Dreamers' protections until a longer-term solution could be reached. Coffman said Thursday that he would attempt to force a vote on the bill. 
Rep. Carlos Curbelo (R-Fla.) recently introduced the Recognizing America's Children, or RAC Act, which would create a path to citizenship to Dreamers but with more restrictions than the Dream Act. He has 18 co-sponsors, all of them Republicans, including Coffman and Ros-Lehtinen. 
Sen. Thom Tillis (R-N.C.) reportedly plans to introduce a similar bill to the RAC Act. 
Republicans have previously said any legal status for undocumented immigrants must be coupled with other measures, such as increased border security and interior enforcement. Top White House officials reportedly were considering pushing for a deal that would give protections to Dreamers in exchange for border wall funding, slashing legal immigration and putting more requirements on employers to check immigration status of hires. 
Trump Ramps Up Obamacare Sabotage With Huge Cuts To Enrollment Programs
Details

Published on

01 September 2017
President Donald Trump's administration has taken more steps to undermine the Obamacare marketplaces it's responsible for managing. The federal Centers for Medicare and Medicaid Services announced Thursday that it's making drastic cuts in spending on advertising for the 2018 open enrollment period on the Affordable Care Act's health insurance exchanges, as well as significant cutbacks in funding for local organizations that help consumers navigate the buying process.
Weakening the two most important tools the federal government has to promote enrollment on the state-based exchanges ― 39 of which are run wholly or mainly by the Centers for Medicare and Medicaid Services ― is the latest signal that the Trump administration isn't committed to serving exchange customers and bolstering the marketplaces during the first open enrollment it will oversee from start to finish.
Less awareness of the open enrollment period running from Nov. 1 to Dec. 15, combined with less help from community organizations, which have assisted more than 9 million enrollees with sign-ups since the autumn of 2013, will likely result in fewer people being covered by health insurance obtained via the federally operated exchanges accessed on HealthCare.gov.

In addition, these moves could worsen the financial state of the exchanges, as sicker and costlier consumers are more likely to seek out coverage than healthier people, who may be unaware that the sign-up season is taking place.
Trump himself repeatedly has said he wants to let or make the health insurance exchanges collapse, and his administration has taken a number of actions to destabilize them. That's above and beyond his advocacy for the Affordable Care Act's repeal.
Chief among the destabilizing steps has been Trump threatening to withhold billions owed to health insurance companies serving poor enrollees, which has contributed to large rate hikes for next year. The Department of Health and Human Services also has used its websites and social media channels to criticize the Affordable Care Act at taxpayer expense.
And the administration previously canceled other outreach and education programsPresident Barack Obama's administration created to help get out the word about coverage options and provide in-person assistance to people seeking help signing up. The current administration also cut the open enrollment period for next year to half its length from last year, giving customers less time to weigh their options.
Trump previewed Thursday's actions at the beginning of his presidency. He took office at the end of the sign-up campaign for this year, and his new administration promptly halted rounds of advertising for which the Obama administration had already paid, which contributed to national enrollment on the exchanges falling from 2016 levels.
The Centers for Medicare and Medicaid Services unveiled two new policies Thursday.
First, the promotional budget for the upcoming sign-up campaign is being cut from $100 million to $10 million. Moreover, a bulletin the agency released indicates that the ad campaign will include no television or radio, and be limited to digital media, email and text messages
Second, organizations with federal contracts to help consumers shop for coverage ― known as "navigators" ― will get far less money. Navigator organizations received $62.5 million from the federal government last year, but will get just $36.8 million this year, a 39 percent cut, according to a fact sheet from the Centers for Medicare and Medicaid Services.
Navigator organizations will receive funding for 2018 based on what percentage of their enrollment targets for 2017 they achieved. So an entity that signed up 70 percent of their target last year will get 70 percent of the amount they expected for this year. These organizations were not told in previous years that their performance would be used to set future funding, and the cuts made public Thursday will force them to scale back their plans for the pending sign-up campaign.
The health insurance industry's main lobbying group highlighted the importance of the initiatives subject to the administration's cuts.
"Effective education ensures that consumers understand their coverage options and encourages broader participation of healthy individuals. Marketing, outreach, and education are critical to ensure that all consumers are aware of the upcoming open enrollment period, understand new timelines, and enroll by the deadline," Kristine Grow, a spokeswoman for America's Health Insurance Plans, wrote in an email to HuffPost.
The Department of Health and Human Services offered information about its new policies under embargo to reporters and via a teleconference Thursday. HuffPost was not informed of the announcement in advance nor invited to participate in the call, as other news outlets were.
The Affordable Care Act's exchanges and the law's expansion of Medicaid drove the uninsured rate down to a historic low. Just 8.8 percent of Americans lacked health insurance during the first quarter of this year, the Centers for Disease Control and Prevention reported Tuesday. As of March 31, 9.1 million people had private health insurance from an exchange, according to data from the Department of Health and Human Services.
POST YOUR OPINION BELOW: 
HUFFINGTONPOST.COM
http://www.huffingtonpost.com/entry/trump-obamacare-sabotage-enrollment-cuts_us_59a87bffe4b0b5e530fd5751