Top News
Supreme Court Puts Redrawing Of Texas Electoral Maps On Hold
Details

Published on

13 September 2017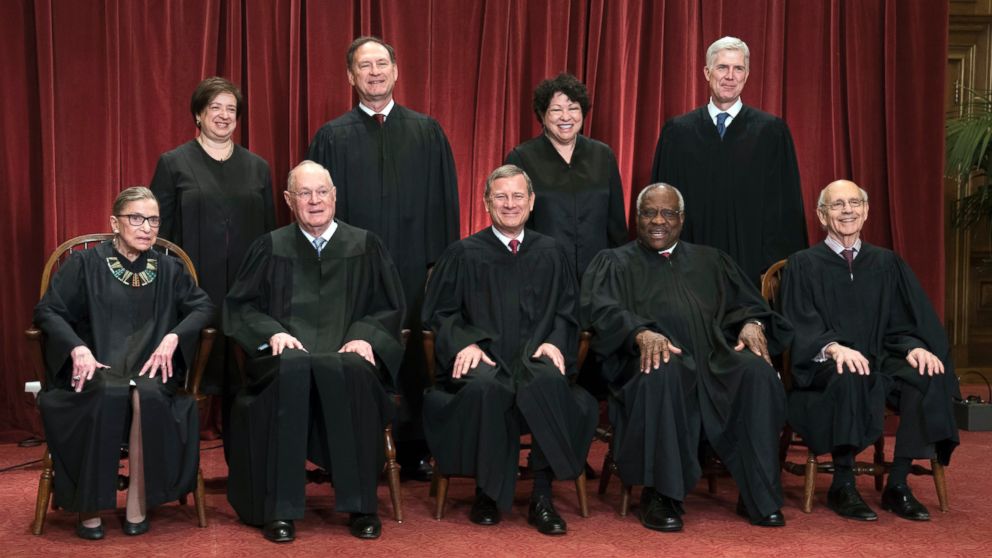 An ideologically divided U.S. Supreme Court on Tuesday handed a win to Republicans in Texas by putting on hold rulings that said electoral districts drawn by state lawmakers discriminated against minority voters.
On a 5-4 vote, with the court's conservatives in the majority and the liberal justices dissenting, the court in a brief order blocked two different lower court decisions that found fault with both congressional districts and state legislative districts drawn by the Republican-controlled state legislature.
In August, a federal court in Texas struck down two Republican-drawn congressional districts saying they were discriminatory and ordering new maps to be drawn ahead of elections in 2018.
The court said the 27th and 35th congressional districts were drawn in violation of the U.S. Voting Rights Act. Texas has 36 districts, with Republicans holding 25 seats in the U.S. House of Representatives and Democrats 11.
The August decision and a similar ruling on the state legislative districts will both remain on hold, meaning no new districts will be drawn in the interim while the high court considers Texas' appeal in the cases.
General John Kelly Slams Congressman Gutierrez For Calling Him a Liar
Details

Published on

11 September 2017
In response to President Trump's decision to end DACA last week, Democrat Congressman Luis Gutierrez went after Chief of Staff General John Kelly by calling him a liar and a "disgrace" to his uniform.  "General Kelly, when he was the head of Homeland Security, lied straight to the faces of the Congressional Hispanic Caucus about preventing the mass deportation of DREAMers.  Now as Chief of Staff, this former general is executing the plan to take away their lifeline and taking steps to criminalize young people who live and work here legally," Gutierrez released in a statement."General Kelly is a hypocrite who is a disgrace to the uniform he used to wear.  He has no honor and should be drummed out of the White House along with the white supremacists and those enabling the President's actions by 'just following orders.'"
Kelly isn't just a United States Marine Corps general who has committed his entire life to his country. He's also a Gold Star father and lost his son, Marine Second Lieutenant Robert Kelly, in 2010 after he stepped on a land mine in Afghanistan. He was on his third tour when he died. 
In an exclusive email to Fox News Sunday host Chris Wallace, Kelly issued a response to Guitierrez and other "irresponsible congressmen" like him. 
"As far as the congressman and other irresponsible members of congress are concerned, they have the luxury of saying what they want as they do nothing and have almost no responsibility," Kelly said. "They can call people liars but it would be inappropriate for me to say the same thing back at them.  As my blessed mother used to say 'empty barrels make the most noise.'"

He concluded, "The congressman has a right to his opinion."
In addition to responding to Gutierrez, Kelly responded to the DACA decision. 
"Every DOJ and DHS lawyer says DACA is unconstitutional.  Every other legal scholar - right and left - says the same thing.  Trump didn't end DACA, the law did.  That said, I worked and succeeded to give the congress another six months to do something.  I am not confident."
TOWNHALL.COM
https://townhall.com/tipsheet/katiepavlich/2017/09/11/john-kelly-slams-luis-guitierezz-n2379883?utm_source=TopBreakingNewsCarousel&utm_medium=story&utm_campaign=BreakingNewsCarousel
Obama Speaks Out On Trump Ending Dreamer Protections
Details

Published on

05 September 2017
Former President Barack Obama said Tuesday that President Donald Trump's decision to dismantle the program protecting young undocumented immigrants was "contrary to our spirit, and to common sense." Trump announced Tuesday that he will end Obama's Deferred Action for Childhood Arrivals program, or DACA, in six months. Unless Congress steps in, ending the program could put nearly 800,000 undocumented young people at risk of deportation and unable to work legally when their two-year permits expire.
Obama said it was a "political decision, and a moral question" ― and one of basic decency. 
"To target these young people is wrong ― because they have done nothing wrong," he said in a statement. "It is self-defeating ― because they want to start new businesses, staff our labs, serve in our military, and otherwise contribute to the country we love. And it is cruel. This is about whether we are a people who kick hopeful young strivers out of America, or whether we treat them the way we'd want our own kids to be treated. It's about who we are as a people ― and who we want to be."
Obama started the program in 2012 and urged undocumented immigrants who came to the U.S. as children to come forward to the government, pay a fee and undergo a background check before receiving a two-year work permit and reprieve from deportation.
He did so after legislative efforts to help Dreamers ― which are being revived now because of Trump's decisions ― failed multiple times, as he noted in his statement. 
″[B]ecause it made no sense to expel talented, driven, patriotic young people from the only country they know solely because of the actions of their parents, my administration acted to lift the shadow of deportation from these young people, so that they could continue to contribute to our communities and our country," Obama said.
Trump promised during his presidential campaign to immediately end DACA, but Obama urged him not to, both publicly and in private conversations. In his final press conference as president, Obama said he would speak out if Trump targeted Dreamers "who have grown up here and for all practical purposes are American kids and send them someplace else when they love this country; they are our kids' friends and their classmates, and are now entering into community colleges or, in some cases, serving in our military."
"The notion that we would just arbitrarily, or because of politics, punish those kids when they didn't do anything wrong themselves I think would be something that would merit me speaking out," Obama said at the time.
By ending DACA, Trump dismantled one of Obama's most significant immigration policy achievements. Trump already dramatically reshaped immigration enforcement from how it was under Obama, who began his presidency with record deportation numbers before changing enforcement priorities to focus on certain undocumented immigrants over others.
Trump immediately eliminated those priorities as president and has detained and deported people whom Obama allowed to remain in the country if they checked in with the government or met other requirements. 
Trump said that Congress should act on Dreamers, although his statements were vague and the only legislation he mentioned specifically during his statement on DACA focused on limiting legal immigration, not actually undocumented immigrants. 
Obama said it was time for Congress to act as well.
"Now that the White House has shifted its responsibility for these young people to Congress, it's up to Members of Congress to protect these young people and our future," Obama said. "I'm heartened by those who've suggested that they should. And I join my voice with the majority of Americans who hope they step up and do it with a sense of moral urgency that matches the urgency these young people feel."
Former Vice President Joe Biden, who served with Obama, similarly condemned Trump's decision to end DACA.