Top News
GOP tax bill draws fire from AARP, universities
Details

Published on

26 November 2017
The tax bills that Republican leaders have put forward in the House and Senate have broad support from their members, from conservative activists and from business groups.
But other stakeholders have been sounding alarm bells over provisions in the legislation. 
Those groups are lobbying furiously for their preferred changes, but there's no guarantee their requests will be heard, given that GOP lawmakers are aiming to move quickly and are hoping to get legislation enacted by Christmas.
Here's a rundown on who's pushing back against aspects of the GOP's tax plans.
AARP
The AARP has raised concerns about provisions in both the House and Senate bills, warning they would be harmful to older Americans.
Both bills would increase the deficit and could trigger cuts to Medicare if Congress doesn't waive sequestration rules for federal spending. The AARP is also concerned that many seniors would see their taxes go up under the bills.
There are also provisions unique to the House and Senate bills that the group opposes. The AARP opposes the House's push to repeal the deduction for medical expenses and the Senate's push to repeal the ObamaCare individual mandate. 
Housing industry
Key groups in the housing industry took issue with the tax bills even before they were released, warning that they reduce incentives for homeownership. 
Both bills would substantially increase the size of the standard deduction taxpayers can take. This would reduce the number of people who take the mortgage interest deduction and concentrate those who do claim the preference at the upper end of the income scale.

The House bill would cap the mortgage interest deduction for new mortgages at the first $500,000, down from $1 million under current law, and would eliminate the deduction for second homes. It also would eliminate the deduction for state and local income and sales taxes and would cap the deduction for state and local property taxes at $10,000.
The Senate bill does not curb the mortgage deduction, but it would completely eliminate the property-tax deduction.
Municipal bond market
The bills would have a significant impact on the municipal bond market, which plays a key role in the financing of infrastructure.
A broad array of groups are involved in the market, including state and local governments that issue the bonds; nonprofit and private parties that benefit from tax-exempt debt; and individuals, banks and insurance companies that purchase them bonds.
Both bills would do away with the ability for state and local governments to sell tax-exempt "advance refunding bonds," which allow municipalities to refinance their debt at lower interest rates and realize savings.
The House bill would also eliminate the tax-exemption for new "private-activity bonds," which are used to finance projects like facilities for nonprofit colleges and hospitals, transportation infrastructure, and affordable housing.
Players in the bond market are also concerned about the bills' treatment of the state and local tax deduction. They argue that curbing the deduction could constrain governments' ability to have flexibility in budgeting and to issue new debt for infrastructure.
Charities
Nonprofits have several concerns with the GOP's legislation.

The increase in the standard deduction in the House and Senate bills would reduce the number of people who would claim the itemized deduction for charitable contributions. Charities are concerned that this change could lead to a decline in charitable giving.
Additionally, the House bill would scale back the "Johnson amendment" that prevents churches and other organizations with 501(c)(3) tax-exempt status from endorsing or opposing political candidates. Under the House bill, nonprofits would be allowed to engage in political speech from 2019 to 2023 as long as the speech is in the ordinary course of business and expenses related to the speech is minimal.
Nonprofits generally oppose curbing the Johnson amendment because they think doing so would inject partisan politics into charities.
Universities
Higher education officials are concerned that colleges and their students would be hurt by a number of provisions in the legislation.
Like other nonprofits, private colleges are concerned that fewer people would take the charitable contribution deduction, and both the House and Senate bills would include an excise tax on certain university endowments.
There are also several provisions that are only in the House bill that worry colleges. These include the elimination of tax-exempt private-activity bonds, the elimination of a lifetime learning credit for part-time students and the elimination of the deduction for student loan interest payments.
Additionally, the House bill would take aim at employer-sponsored education benefits. For example, it would eliminate the tax exemption for graduate students' tuition waivers.
Renewable energy sector 
Renewable energy companies, and particularly wind-energy producers, are troubled by several provisions in the House tax bill.
Congress enacted legislation in 2015 that would phase out credits for wind and solar over the next few years.
But the House bill changes the terms of that agreement. It would undo about 25 years worth of inflation adjustments on the value of the wind credit for new projects. It also would retroactively change how projects qualify for wind and solar tax credits.
The House bill also would phase out another tax credit for utility-scale solar projects that is permanent under current law.
The Senate bill does not include the provisions that renewable-energy groups find particularly objectionable in the House bill
POST YOUR OPINION BELOW:
THEHILL.COM
READ MORE:  http://thehill.com/policy/finance/361614-gop-tax-bill-draws-fire-from-aarp-universities
Biden's 2020 trial balloon: Why some liberals say his past would haunt him
Details

Published on

20 November 2017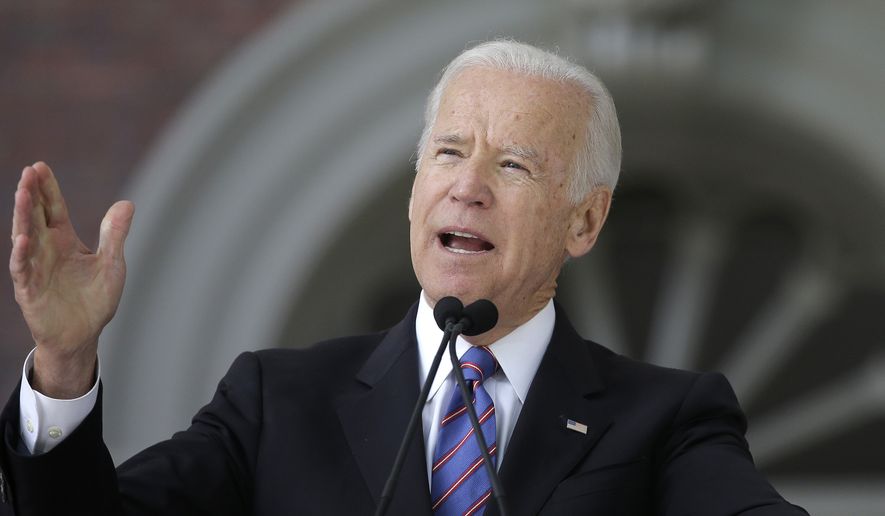 There is talk of Joe Biden running for president in 2020, much of it generated by Joe Biden himself.
I think that's highly unlikely, if only because Biden will turn 78 right after the election. But the way the discussion is playing out is quite revealing.
Whatever Biden's flaws as a politician — his past presidential runs have been flops — he does have a down-to-earth, ride-the-Amtrak authenticity that resonates with working-class voters. He would have fared better than Hillary Clinton in such states as Michigan and Pennsylvania. He speaks — sometimes far too long — from the gut in a way that she never has.
But a piece in the liberal Huffington Post says he shouldn't run because in the Harvey Weinstein era, he's, well, a hands-on politician:
Amanda Terkel writes that Biden's behavior had "patronizing undercurrents. A big part of his act was remarking on the attractiveness of women, young and old. He would comment on how pretty young women were and warn their fathers to keep the guys away ..."
"He grabbed people's hands, put his arm around them and even kissed people on the cheek. But it's clear some people were uncomfortable. The teenage daughter of Sen. Chris Coons, D-Del., for example, visibly cringed and pulled away when Biden whispered in her ear and kissed her on the head."
What's more, many on the left say Biden, as the Judiciary Committee chairman in 1991, was unfair to Anita Hill, who alleged that she was sexually harassed by Clarence Thomas. "Part of his record remains the way he treated Hill," Terkel says. "And for that, he has never fully apologized. Instead, on Monday, he said he felt bad that Hill felt she had been mistreated ― but he still insisted he was her champion."
The former vice president has been making the television rounds promoting a memoir. And Politico reports that he doesn't see another Democrat who can beat Trump: "So, he's been telling people privately, that might mean he'll just have to run himself."
I'm sure he was encouraged by a Politico/Morning Consult poll that has him beating Trump 46 to 35 percent, although such early surveys are largely meaningless.
Biden, who says he didn't run last year because of the death of his son Beau, says Barack Obama is "like family" and would obviously appeal to those who miss the Obama years. But as a senator for more than 35 years, the ex-VP can hardly run as a fresh face who could clean up Washington.
Still, he knows that stoking speculation about a future run keeps him in the news, especially when he's trying to sell a book.
"I'm not closing that door. I've been around too long," Biden told the "Today" show.
That, of course, is part of the problem.
FOXNEWS.COM
http://www.foxnews.com/politics/2017/11/17/bidens-2020-trial-balloon-why-some-liberals-say-his-past-would-haunt-him.html
Mitch McConnell calls for ethics investigation into Bob Menendez after mistrial declared
Details

Published on

16 November 2017
Senate Majority Leader Mitch McConnell, R-Ky., called Thursday for Senate Ethics Committee investigation into Sen. Bob Menendez, D-N.J., after his bribery and corruption trial ended in a mistrial.
"Senator Menendez was indicted on numerous federal felonies," McConnell said in a statement. "He is one of only twelve U.S. Senators to have been indicted in our history. His trial shed light on serious accusations of violating the public's trust as an elected official, as well as potential violations of the Senate's Code of Conduct."
"Because of the seriousness of these charges, I am calling on the Senate Ethics committee to immediately investigate Senator Menendez's actions which led to his indictment," McConnell said.
The statement came after the jury remained deadlocked after days of deliberation and nine weeks of testimony in the trial of Menendez and Salomon Melgen, his co-defendant.
"I find that you are unable to reach a verdict and that further deliberations would be futile and there is no alternative but to declare a mistrial," said Judge William Walls on Thursday
The decision prevented a bad outcome for Menendez's party. Senate Democrats had feared the possibility of Menendez being forced to resign with a Republican governor in charge in the state, which could have led to a Republican senator being named to fill the remainder of his term.
Menendez was charged with 12 counts of conspiracy, bribery and fraud that could carry a lengthy prison sentence.
 WASHINGTONEXAMINER.COM
http://www.washingtonexaminer.com/mitch-mcconnell-calls-for-ethics-investigation-into-bob-menendez-after-mistrial-declared/article/2640934