Top News
Republicans live to fight another day in Georgia House race
Details

Published on

19 April 2017
All eyes were on suburban Atlanta Tuesday as Georgia's sixth congressional held a special House election Democrats hoped would send a message to President Trump while Republicans worked to keep their grip on a seat that has been theirs for 38 years.
Republicans appear to have done well enough to force the race into a runoff. But the Democratic candidate finished first, nearly 30 points aheadof the leading Republican. Democrats declared a moral victory Tuesday night and are refusing to write off their chances in the final round of voting in June.
Shortly after polls closed at 7 p.m. Eastern time, Democrat Jon Ossoff zoomed out to an even greater than expected early lead But as Election Day voting results trickled in, that lead steadily dropped. Ossoff remained well ahead of the Republican competition while hovering around the 50 percent threshold needed to win the House seat outright.
Technical difficulties delayed results from Fulton County, which finally pushed the Democrat below 50 percent once resolved.
"While we await the final election results this evening, our first-place finish is a remarkable achievement that many said would never even happen," Ossoff campaign manager Keenan Pontoni said in a statement. "It's clear that Jon has incredible energy and support behind him that will only grow whether we win tonight or in June."
If the results hold, Ossoff will meet former Georgia Secretary of State Karen Handel in a June 20 runoff. Handel received less than 20 percent of the vote as of early Wednesday morning, but was well ahead of the other Republican candidates.
Pre-election polls showed Ossoff, a 30-year-old former congressional aide, ahead in the race to replace Republican Tom Price, who resigned to serve as secretary of Health and Human Services under Trump. Democrats have spent heavily to make the election a referendum on Trump and other Republican leaders in Washington.
A strong finish in this Republican-leaning district would boost Democratic optimism and suggest GOP congressional majorities could be at risk in 2018. Even if Ossoff were to ultimately lose, it would help Democrats raise money and recruit better candidates in other races.
That's why liberal groups moved quickly to declare victory, even though they conceded a recount was likely. MoveOn.org told supporters the outcome was a "huge blow to Donald Trump" and crediting Ossoff "with a first-place finish that will give him much-needed momentum for a likely runoff election in June."
"Jon Ossoff's first-place finish in ruby-red Georgia shows the huge opportunities for progressive candidates across the country — from Tom Perriello for Governor in Virginia to Rob Quist for Congress in Montana," said Progressive Change Campaign Committee co-founder Adam Green. "Ossoff showed what's possible when a campaign taps into the huge grassroots energy of the Resistance, and the PCCC will be funneling that energy into Perriello's campaign for governor with an official endorsement and grassroots fundraising this week."
Friends of the Earth Action described Ossoff's strong first place finish as a "landslide."
"Tonight's powerful result will build momentum toward electing progressive candidates across the country," said the group's political strategist Ben Schreiber. "We hope tonight's landslide will encourage the Democratic Party to support progressive candidates that are capable of defeating Trump and his enablers."
Trump himself took credit for forcing another round of voting, calling the likely runoff a big "'R' win."
The main Republican candidates were Handel, businessman and former councilman Bob Gray; businessman and former state legislator Dan Moody and state Sen. Judson Hill. Moody was endorsed by Sen. David Perdue, R-Ga.
"My gut still says Ossoff performs only slightly better than the Dem against Isakson did in 2016," said local Republican operative Charlie Harper. "This is a GOP district. Nine million dollars "may move the needle a bit and the dynamics of a special election are always screwy, but for the Republicans this election isn't about Trump, pro or con."
National Democrats naturally see it differently. This district has been under Republican control for 37 years, when future House Speaker Newt Gingrich was still elected. Hillary Clinton is the only recent Democrat to break 40 percent here. If Ossoff is able to replicate that, Democrats say it will show suburban Republican-leaners who abandoned Trump last year are continuing to defect.
Price won re-election with 62 percent of the vote in 2016. Trump, however, carried the district over Clinton by just 1.5 percentage points.
If Ossoff's performance is closer to Clinton's than Price's Democratic opponent, Democrats believe it will bode well for their 2018 candidates running in suburban districts filled with college-educated voters who normally vote Republican but disapprove of Trump. This will be true, they argue, even if Ossoff comes up short in June.
Republicans are casting the race as must-win for the Democrats, noting that they came up short in Kansas last week.
"Ultimately the objective is to win races — not just finish close and chalk it up as a moral victory," said a national GOP operative. "The Dems put forward a young, far-left candidate who appeals to their base voters and progressive money groups. If they can't win with this model now in an open seat, with all they've invested, does it portend more failures for the Democratic Party in 2018?"
Once the primary is over, the Republican vote will no longer be fractured and the party will have the benefit of time.
"I just don't see GOP voters listening to two months of Democratic media saturation and deciding to stay home and cede a seat," Harper said.
"Ossoff had the Dem field to himself and I fully expect he'll have raised $10 million by tomorrow. He's hit a ceiling on his vote," said another Republican operative. "Or to put it another way, I think you can make an argument that Ossoff has a better chance of winning the seat in the primary than the run-off."
This theory will now be tested.
Republicans had reason to be nervous about Tuesday's contest even before the first returns showed Ossoff threatening to break 50 percent.
Two polls released Monday found Ossoff with more than 40 percent of the vote, over 20 points ahead of Republican runner-up Handel. The early voting heavily favored the Democrat until Election Day voting gradually ate into his lead throughout the night.
Post Comments Below
WASHINGTONEXAMINER.COM
http://www.washingtonexaminer.com/republicans-live-to-fight-another-day-in-georgia-house-race/article/2620605
The Human Cost Of Trump's Rollback On Regulations
Details

Published on

16 April 2017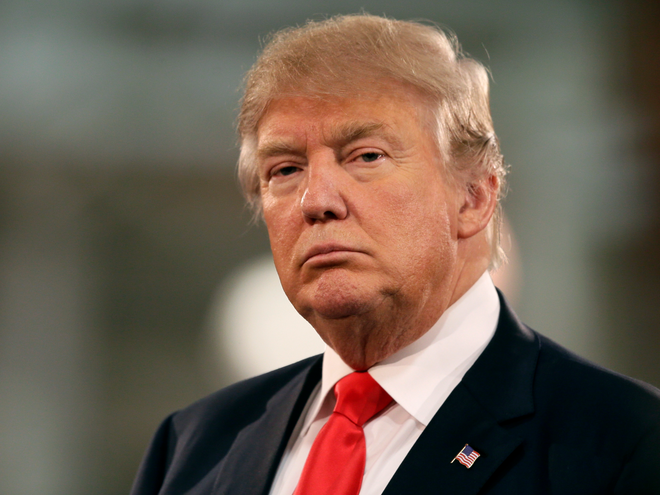 If Tom Ward had to die from his work, he'd rather fall off a scaffold than endure the slow death his father did from the debilitating lung disease silicosis. "I would choose to go much quicker," he said, "rather than to have my family watch me suffer." Ward fears that other workers will face the same suffocating illness as his father, thanks to the regulatory rollback underway by the Trump administration.
Ward's father spent several years working as a sandblaster in Michigan. It was most likely on that job that he breathed a lethal amount of crystalline silica, a carcinogenic dust that comes from sand and granite. Excessive silica has been ruining workers' lungs for as long as rock and concrete have been cut. Frances Perkins, U.S. labor secretary under Franklin D. Roosevelt, spoke publicly of the dangers of silica back in the late 1930s.
After numerous efforts under other presidents failed, the Obama administration finally tightened the regulations covering silica last year, further restricting the amount of dust that employers can legally expose workers to. The tougher standards were 45 years in the making, the subject of in-depth scientific research and intense lobbying by business groups and safety experts. When the rules were finalized in March 2016, occupational health experts hailed them as a life-saving milestone.
But now the enforcement of the rules has been delayed ― and the rules themselves could be in jeopardy.
Last week, the Trump administration announced that it was pushing back the implementation of the new silica regulations. For now, the delay is just three months ― from late June to late September, since "additional guidance is necessary due to the unique nature of the requirements," as the Labor Department put it. A spokeswoman said the agency wouldn't comment beyond that.
But to occupational health experts who've waited years for the tighter rules, the new delay casts a cloud of uncertainty over their future. The leading home-building trade group and other business lobbying groups have sued to halt the regulations, saying they are too costly for employers. Defending the silica rule would now be the responsibility of the Trump administration, which has eagerly dismantled one Obama-era regulation after another at the urging of corporations. (The rule could also be subject to an appropriations rider by the GOP-controlled Congress.)
While the administration has not signaled that it intends to reverse the silica rule, it has issued an executive order directing all agencies to review the regulations currently on their books, presumably for potential watering down or scrapping. Trump's own labor nominee, Alexander Acosta, cited that order during his confirmation hearing as one reason he would not yet commit to enforcing the silica rule if he becomes labor secretary.
Sen. Elizabeth Warren (D-Mass.) noted the huge public health implications at stake. "You can't tell me whether or not, high on your list of priorities, would be to protect a rule that keeps people from being poisoned," she told Acosta.
I never dreamed I would have to spend my retirement years in this debilitating manner.

Leonard Serafin, silicosis victim
The delay of the new silica regulations was not a surprise to Ward, given the Trump administration's promises to deregulate businesses in order to boost hiring. But it was nevertheless painful to see. Ward now leads training at the Michigan Bricklayers and Allied Craftworkers Union, a personal mission given that his father died at age 39 after "an awful few years" of suffering from silicosis.
"Knowing it was 100 percent preventable is the part that really hurts," he said. 
Silica has been called the "silent killer." It's not visible to the naked eye ― particles can be one hundred times smaller than a grain of sand ― and the effects on the lungs are cumulative. But there are clear ways to curb exposure to silica, like wetting down rock that's being cut, installing ventilation or dust-collecting equipment on the worksite, and wearing respiratory equipment designed to filter out the dust.    
When the proper precautions aren't taken, the results can be debilitating. Railroad worker Leonard Serafin shared the story of his own battle with silicosis in a letter his family provided to The Huffington Post in 2012.
At the time, the Obama White House was sitting on the silica rule, and advocates worried that the reforms might not be finished before Obama left office. Serafin had worked as a trackman on a railroad for 32 years, laying out the crushed rock and gravel in which the tracks were laid. He said the work led to chronic obstructive pulmonary disease and a litany of other lung maladies.
"I never dreamed I would have to spend my retirement years in this debilitating manner," Serafin wrote. "I find it difficult to attend social events such as concerts and plays with my family because of my chronic cough. Even coughing while standing at a cash register line at a retail store causes people to distance themselves from me. ... When I exert myself, my daily coughing becomes a spastic type of cough, which leaves me exhausted, breathless with chest pain."
Although U.S. regulators had been aware of silica's dangers for decades, it wasn't until 1971 that the federal government imposed legal limits on workers' exposure to it: 100 micrograms per cubic meter for laborers in most industries, and 250 micrograms for those working in construction and shipyards. Many experts believed those limits were too meager, however. The caps weren't lowered to the 50 micrograms recommended by the Centers for Disease Control and Prevention until Obama's presidency.
The Occupational Safety and Health Administration has estimated that the new rules would cut down silica exposure for roughly 2.3 million workers, preventing an estimated 600 deaths annually. Extrapolating on that data, the AFL-CIO labor federation says even the three-month delay in enforcement "will lead to an additional 160 worker deaths."
David Michaels, the head of OSHA under Obama, called the reform "the most important health standard OSHA has issued in decades."
But in the eyes of the construction industry, it's one of the most expensive. OSHA says that instituting the new controls would cost businesses an estimated $511 million annually. Meanwhile, industry lobbies say the real cost to them would be in the billions each year ― most of it due to additional equipment and labor.
While praising the Trump administration's decision, a consortium of construction industry trade groups urged Trump to extend the delay well beyond the original three months, saying it "remains concerned about the overall feasibility of the standard in construction and has requested that the agency delay enforcement for a year."
Supporters of the rule note that those upfront costs don't take into account the long-term financial benefits to workers and society. Preventing disability and death saves money, after all.
OSHA estimated that the reforms would have a net benefit of $7.7 billion each year, largely due to savings on health care and lost productivity. The Economic Policy Institute, a left-leaning think tank, calls the silica rule a "case study" in how seemingly expensive safety regulations can have economic benefits over the long term.
Ward thought the debate over the rule's financial costs had finally been put to rest. For years, he heard dollars and cents being weighed against lives lost or saved. Now that he's hearing it again, he's worried about the bricklayers who will come up after him.
The risk Trump takes in abandoning Steve Bannon
Details

Published on

13 April 2017
President Trump's business empire has long been a family affair and now his White House appears to be headed in the same direction. But what worked in building his personal fortune may not help his political fortunes.
Trump's old glitz and glamor brand has been repealed and replaced with a vaguely right-wing populist one. Whatever the advantages of the former in pursuing a mass television audience, it is the latter that got him elected president.
Like the old "Conventional Wisdom Watch" feature in Newsweek, the arrow next to son-in-law and senior adviser Jared Kushner is pointing upward and the arrow beside top strategist and house ideologue Stephen Bannon is pointing downward.
Kushner has been pictured in Iraq wearing a bulletproof vest, looking like a Cabinet officer or even a young president rallying the troops. Bannon has been on the wrong side of some unpleasant public barbs from Trump.
Trump described Bannon in an interview with the Wall Street Journal as a "guy who works for me" while the president himself is his own "strategist." That follows similarly dismissive comments to the New York Post's Michael Goodwin.
"I like Steve, but you have to remember he was not involved in my campaign until very late," the president said. "I had already beaten all the senators and all the governors, and I didn't know Steve. I'm my own strategist and it wasn't like I was going to change strategies because I was facing crooked Hillary."
Ouch.
All this comes as Trump has slowly but unmistakably gestured toward becoming a more conventional president: missile strikes in Syria justified on internationalist grounds, Russia rhetoric more grounded in the bipartisan Washington consensus, conciliatory moves toward both NATO and China.
There's a rough logic to it. Trump initially sided with the nationalists, who are generally the least governmentally experienced people in his administration if also the most distinctly Trumpist, and got burned on his first travel ban. Then he sided with the movement conservatives and establishment Republicans, the most governmentally experienced people within his orbit, and they could not work together to deliver on Obamacare repeal or (so far) tax reform.
Now the president is following the instincts that served him so well inside Trump Tower and turning toward Kushner and his daughter Ivanka, who are centrists at best and limousine liberals at worst.
This has led some to conclude that there is no such thing as Trumpism, only Trump. Then there are others, like Joe Scarborough, who maintain that Trump has the nationalism beat covered on his own and doesn't need anyone like Bannon.
"Donald Trump has been saying this for 30 years and Steve Bannon is trying to sell it ... and for some reason reporters in Washington have bought it," Scarborough said. Exhibit A is a 1987 interview with NBC's "Today" in which the future president sounds very Trumpist on his own.
http://www.washingtonexaminer.com/president-trump-is-taking-a-big-risk-abandoning-steve-bannon/article/2620173­"This country is a great country but we are a debtor nation," Trump said. "We borrow money from Japan in order to defend Japan and we pay interest on that money and I think it's just ridiculous. The country, the United States, is being ripped off and it shouldn't happen."
Trump said all the way back then that if he ever ran for office, he would do something about these foreigners who are taking advantage of Americans.
 It is possible to imagine a universe in which Trump got elected as some kind of New York Rockefeller Republican. He flirted with such a candidacy when he almost ran against Pat Buchanan for the 2000 Reform Party nomination and certainly did well with the surviving liberal Republicans in the primaries.
But the plain fact is that Trump did not get elected as an innocuous, can-do, pragmatic centrist. He is president because fewer than 80,000 people in Pennsylvania, Michigan and Wisconsin voted for him, a small raw number but a big swing toward the Republicans in those states compared to 2012.
Trump would have lost running as the more conventional Mitt Romney and he can't turn himself into the more liberal George Romney now because those voters are no longer available to him after nearly two years in national politics.
Yet without Bannon-like figures in the White House, emulating a Romney becomes two of his only three options.
The third option is to embrace populism as a pose, retaining the "America First" rhetoric while governing as either a New York Democrat or Vice President Pence Republican.
Post Comments Below
WASHINGTONEXAMINER.COM
http://www.washingtonexaminer.com/president-trump-is-taking-a-big-risk-abandoning-steve-bannon/article/2620173