Top News
Biden's 2020 trial balloon: Why some liberals say his past would haunt him
Details

Published on

20 November 2017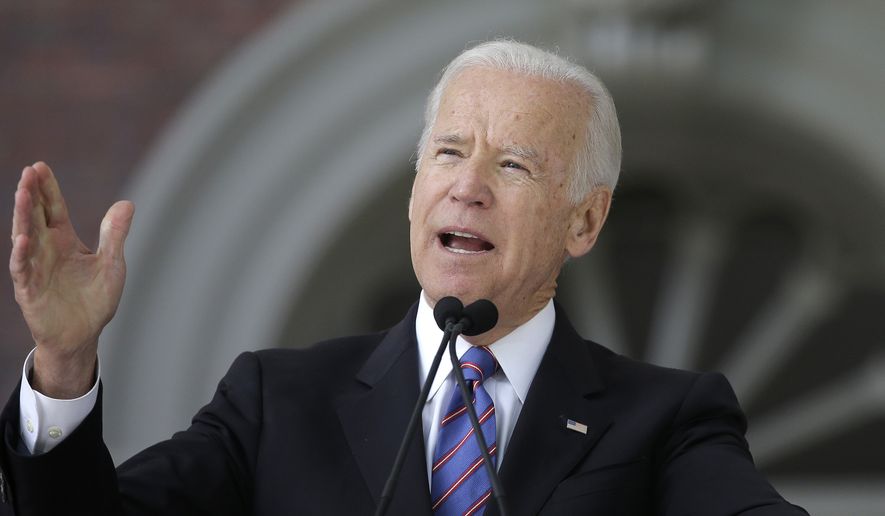 There is talk of Joe Biden running for president in 2020, much of it generated by Joe Biden himself.
I think that's highly unlikely, if only because Biden will turn 78 right after the election. But the way the discussion is playing out is quite revealing.
Whatever Biden's flaws as a politician — his past presidential runs have been flops — he does have a down-to-earth, ride-the-Amtrak authenticity that resonates with working-class voters. He would have fared better than Hillary Clinton in such states as Michigan and Pennsylvania. He speaks — sometimes far too long — from the gut in a way that she never has.
But a piece in the liberal Huffington Post says he shouldn't run because in the Harvey Weinstein era, he's, well, a hands-on politician:
Amanda Terkel writes that Biden's behavior had "patronizing undercurrents. A big part of his act was remarking on the attractiveness of women, young and old. He would comment on how pretty young women were and warn their fathers to keep the guys away ..."
"He grabbed people's hands, put his arm around them and even kissed people on the cheek. But it's clear some people were uncomfortable. The teenage daughter of Sen. Chris Coons, D-Del., for example, visibly cringed and pulled away when Biden whispered in her ear and kissed her on the head."
What's more, many on the left say Biden, as the Judiciary Committee chairman in 1991, was unfair to Anita Hill, who alleged that she was sexually harassed by Clarence Thomas. "Part of his record remains the way he treated Hill," Terkel says. "And for that, he has never fully apologized. Instead, on Monday, he said he felt bad that Hill felt she had been mistreated ― but he still insisted he was her champion."
The former vice president has been making the television rounds promoting a memoir. And Politico reports that he doesn't see another Democrat who can beat Trump: "So, he's been telling people privately, that might mean he'll just have to run himself."
I'm sure he was encouraged by a Politico/Morning Consult poll that has him beating Trump 46 to 35 percent, although such early surveys are largely meaningless.
Biden, who says he didn't run last year because of the death of his son Beau, says Barack Obama is "like family" and would obviously appeal to those who miss the Obama years. But as a senator for more than 35 years, the ex-VP can hardly run as a fresh face who could clean up Washington.
Still, he knows that stoking speculation about a future run keeps him in the news, especially when he's trying to sell a book.
"I'm not closing that door. I've been around too long," Biden told the "Today" show.
That, of course, is part of the problem.
FOXNEWS.COM
http://www.foxnews.com/politics/2017/11/17/bidens-2020-trial-balloon-why-some-liberals-say-his-past-would-haunt-him.html
Mitch McConnell calls for ethics investigation into Bob Menendez after mistrial declared
Details

Published on

16 November 2017
Senate Majority Leader Mitch McConnell, R-Ky., called Thursday for Senate Ethics Committee investigation into Sen. Bob Menendez, D-N.J., after his bribery and corruption trial ended in a mistrial.
"Senator Menendez was indicted on numerous federal felonies," McConnell said in a statement. "He is one of only twelve U.S. Senators to have been indicted in our history. His trial shed light on serious accusations of violating the public's trust as an elected official, as well as potential violations of the Senate's Code of Conduct."
"Because of the seriousness of these charges, I am calling on the Senate Ethics committee to immediately investigate Senator Menendez's actions which led to his indictment," McConnell said.
The statement came after the jury remained deadlocked after days of deliberation and nine weeks of testimony in the trial of Menendez and Salomon Melgen, his co-defendant.
"I find that you are unable to reach a verdict and that further deliberations would be futile and there is no alternative but to declare a mistrial," said Judge William Walls on Thursday
The decision prevented a bad outcome for Menendez's party. Senate Democrats had feared the possibility of Menendez being forced to resign with a Republican governor in charge in the state, which could have led to a Republican senator being named to fill the remainder of his term.
Menendez was charged with 12 counts of conspiracy, bribery and fraud that could carry a lengthy prison sentence.
 WASHINGTONEXAMINER.COM
http://www.washingtonexaminer.com/mitch-mcconnell-calls-for-ethics-investigation-into-bob-menendez-after-mistrial-declared/article/2640934
How Cable News Fuels Polarization
Details

Published on

14 November 2017
During a TV interview years ago, I said, tongue-only-slightly-in-cheek, that Roger Ailes, the visionary who created and ran Fox News, should send thank-you notes and flowers to the presidents of ABC, NBC and CBS news networks for delivering so many of their viewers to Fox.
Fox was built on alienation. It was the place to go if you didn't like the biases of the old TV networks. But I never bought into the fairy tale that those unhappy viewers, who rightly spotted a liberal slant at the networks, abandoned Dan Rather and the others because they craved "fair and balanced" coverage at Fox.
They went over, I was convinced -- most of them, anyway -- because they wanted a comfortable place where they could sit back, relax and get their own biases validated.
It wasn't so much that they were against bias per se. They were against bias they didn't agree with.
Ailes gave them refuge from the liberal sensibilities that held sway at the networks. Now -- especially in the age of Donald Trump -- MSNBC and CNN are also places that cater to particular tastes in politics and culture. Yes, there are a few hard news broadcasts on cable that at least try to play it straight. But very often I can't tell the difference between a news program and an opinion show. The line separating the two used to be bright red; now it's fuzzy and gray.
The key to understanding how it all works is to grasp one simple concept: Cable TV is not broadcasting, which needs to appeal to a broad audience with varied tastes. It's narrowcasting, which needs to attract a narrow audience with particular tastes.
Forgive me for stating the obvious: If you like Donald Trump you're more likely to watch Fox. If you detest the president, MSNBC is the place for you, as are more than a few programs on CNN.
Kellyanne Conway understandably may be not be a model of objectivity, but she hit CNN's Brian Stelter right between the eyes recently with an objective truth: "Just say we're doing better in the ratings," she told him, "we're getting better ad revenues because we're one of the more anti-Trump than down-the-line outlets, just own it." In other words, bashing Donald Trump has been good for CNN's bottom line. But Stelter had a reply -- unfortunately it was a pathetic one: "We're not anti-Trump, we're pro honesty, we're pro decency." There's a good chance even the brass at CNN got a chuckle out of that one.
A 2014 study by the Pew Research Center didn't exactly break news with this analysis: "When it comes to getting news about politics and government, liberals and conservatives inhabit different worlds. There is little overlap in the news sources they turn to and trust. And whether discussing politics online or with friends, they are more likely than others to interact with like-minded individuals."
If you're a car manufacturer it makes sense to survey your potential customers to learn what kind of cars they want. If they want SUVs, it's good business to give them SUVs. If you make shoes and your customers want stilettos, give them stilettos.
But if your product is information, while it may be good business to give your customers what they want, pandering to their tastes comes with a price: it fuels an already toxic polarization in America.
There is nothing in the U.S. Constitution, of course, protecting the rights of car manufacturers or people who make shoes. But the business of information -- especially political information -- being considerably more important to the wellbeing of the republic, is different than any other business. Or least it's supposed to be.
TOWNHALL.COM
https://townhall.com/columnists/bernardgoldberg/2017/11/14/how-cable-news-fuels-polarization-n2408933?utm_source=TopBreakingNewsCarousel&utm_medium=story&utm_campaign=BreakingNewsCarousel